Family Tree Maker makes it easier than ever to discover your family story, preserve your legacy and share your unique heritage. If you're new to family history, you'll appreciate how this intuitive program lets you easily grow your family tree with simple navigation, tree-building tools, and integrated Web searching. If you're already an expert, you can dive into the more robust features, options for managing data, and a wide variety of charts and reports. The end result is a family history that you and your family will treasure for years to come! Includes free 14-day trial subscription to Ancestry.com
Family Tree Maker Includes:
Everything you need to begin your journey through your family's history
A variety of charts and dozens of reports
Themed backgrounds, borders, and embellishments collection for printing
Locations database with more then 3 million place names
Access to online street and satellite maps
What's New in FTM 2017!
Color coding for the rest of us
COLOR CODING FOR THE REST OF US
We hope you'll like our elegantly simple color coding which makes powerful discoveries possible by allowing up to eight colors on a single person in your tree. You can start by coloring all four lines of your Ancestors with a single click, choosing one of the four-color groups. The first four-color group is the classic one made famous by Mary Hill.
And then perhaps add a color for a particular attribute – such as all those who served in the military – by creating a list in the Index and applying a color to it. Oh yeah, and then SAVING that list. Testers reported being stunned to discover relationships they couldn't have guessed in their huge trees. Or finding ancestors with similar names were not from the same family after all.
What will you discover?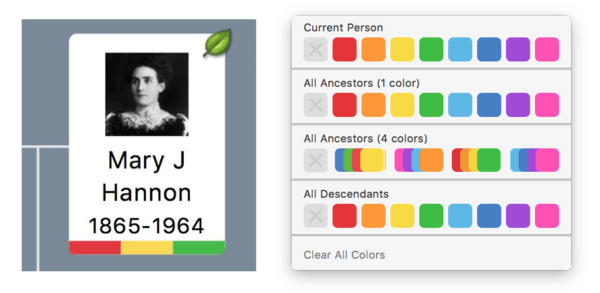 Recovering old faded photos the easy way
Go find your most faded old photos. The first tool in the FTM 2017 Photo Darkroom series is the Faded Photo Repair Tool. It does just one thing, as its name implies, but does it extraordinarily well. It takes faded old black-and-white photos and makes them look like the day they were first printed. All with just a few clicks of three repair tools of differing intensity.
If you're the kind that likes to tinker around a bit, drop down the Advanced Settings to sharpen up your photos with a few final adjustments using the sliders. The photo below went from "Before" to "After" with four clicks of the Intensive Repair tool, one click of the Light Repair one and a drag of the sharpness slider. And yes, it really is as easy as that.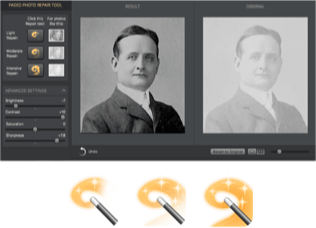 Organize media with ease
Illustrate your family story with photos, historical records, and audio and video files. The easy-to-use tools in Family Tree Maker help you manage media faster than ever before, as well as add photos directly from iPhoto®, scan images directly into your tree, and even create slideshows.
Put your ancestors on the map
Access interactive street and satellite maps to view important locations in your ancestors' lives and track your family's migration paths.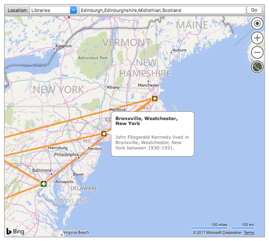 Charts & Reports
View and share your discoveries with a variety of colorful family tree charts, such as pedigree, descendant, bowtie and fan charts, and create reports that provide a snapshot of your family tree and help you plan what to research next. More options and views let you display an individual's ancestors, spouses, and children together. Also, the Index of Individuals Report has been expanded with options for anniversary, birthday, contact lists, and more.