40% off Inspiration & Kidspiration Site Licenses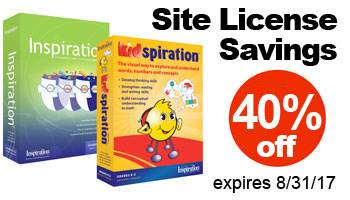 Help students develop critical and creative thinking skills, structure and organize ideas and information and communicate and write more effectively. Inspiration® Software, Inc.'s family of products support a variety of technology platforms putting visual thinking and learning strategies at teachers' and students' fingertips.
Order now and get 40% OFF Inspiration and Kidspiration site licenses when you place your orders through Learning Services

before Aug 31, 2017.

Please Request a Quote to receive customized pricing for your site.

Inspiration Site Licenses
Kidspiration Site Licenses