Achieving Communication Competence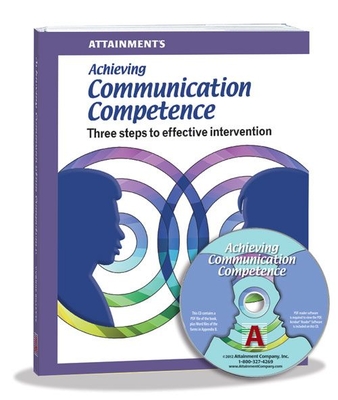 Description
A resource for creating intervention plans for people with severe communication disabilities
Achieving Communication Competence is available as a book with reproducibles and as Packages with additional communication components included.
The Achieving Communication Competence Book details a three step process to create an effective intervention plan for people with severe communication disabilities.
First, assess the environment, including settings, opportunities, and communication partners.
Next, assess communication skills and write messages, design displays, and select partners.
Finally, implement your plan and report on progress. Assessments, inventory forms, guides, and detailed case studies seamlessly lead you through this process. PDF and customizable Microsoft Word files on CD encourage you to personalize and share these tools.
A perfect companion to the book is the Achieving Communication Competence Overlay Package, available separately above. It includes a set of ACC Overlays and our GoTalk Overlay Software. Use the set of preprinted communication overlays alone or in the GoTalk 20+ and the GoTalk Express 32. This set is ideal for communication in specific activities.
Achieving Communication Competence Complete Package includes the book with CD, 50 sets of GoTalk 20+ and GoTalk Express 32 Overlays, one GoTalk 20+, and GoTalk Overlay Software.
Book is covered spiralbound, 248 pages, includes Win/Mac CD with PDF and customizable Word document, 2012. By Yvonne Gillette, PhD, CCC-SLP.
Achieving Communication Competence
Single
#ACH-02W
Price: $67.00

SRP: $69.00

Achieving Communication Competence Complete Pkg
#ACH-020W
Price: $279.00

SRP: $289.00

AAC Overlays
#ACH-07W
Price: $95.00

SRP: $99.00
---
Features and Benefits
Product Features:
Details a three-step process for creating an effective plan
Available for purchase of book only, AAC overlays only, or as the Complete Package
---
Reviews
---