Animate it!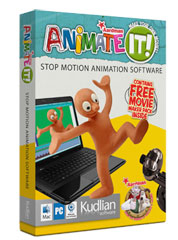 Description
Animate
It! animation software is part of a range of products that has been
developed to give children (and adults) of all ages the chance to
create fantastic animated films quickly and easily.

Kudlian Software,
publishers of the award winning I Can Animate, have teamed up with the
world's number 1 in stop frame animation, Aardman, to offer education
through creativity to all areas of the curriculum and all schools, not
forgetting it's great to use at home as well.
Animate It! has a new and
intuitive interface with stunningly powerful features.
Animate it!
Single
#AnIt
Price: $45.00
5 Computer License
#Anit5
Price: $225.00
15 Computer License
#Anit15
Price: $424.00
Primary Site License
#AnitsiteP
Price: $599.00
Secondary Site License
#AnitsiteS
Price: $835.00
---
Features & Benefits
Easily create stunning animations.
Features Include:
•PC and Mac, share files between platforms
•Works using any USB Webcam, built in webcam or FireWire DV Camera

•Capture in full HD, compatible equipment required
•Multiple camera support, switch between camera views.
•Instant playback any time, live view of your animation in preview and timeline, allows you to edit, deleting and recapturing frames, straight away.
•Onion skinning - on single and multiple frames. Check how far your character has moved or put them back in place if you've knocked them over

•Auto toggle onion skin toggles live view and captured frame
•Alter camera resolution and aspect ratio, supports wide screen, PAL & NTSC supported
•Easily alter frame rates, on you animation or just individual clips to speed up or slow down your film
•Import stills captured with a Digital Still cameras directly to the time line, single or multiple stills

•Autosave, never lose an animation again, projects are automatically saved and updated to projects library

•Copy, Cut, Paste and Reverse frames and sequences. Waving, blinks, and other repeat movements are quick and easy

•Delete frames at anytime, if you make a mistake, or need to edit

•Undo/Redo, step backwards and forwards through all actions

•Frames and Clips, organise you animation into clips making managing and editing easier

•Add Unlimited Audio tracks to the timeline

•Record sound directly into your animation

•Import sound effects and music

•Add Drawings, to frames or create drawing tracks, and 2D animations.

•New Drawing Features, import still images , supports alpha channel, create text objects and then manipulate like other drawn objects.

•Tween objects across frames to create quick and stunning effects
•Easy object and 'rig removal', removes stands, string, supports quickly on single and multiple frames

•Chroma Key - capture your animation against green and blue screens just like the do in the movies

•Add still images, move, resize and tween them for great effects.

•Add Movies to the background, to combine you animation with video.

•Title tracks to add Credits and Subtitles

•Transition Effects can be added between clips

•Export moviesto video file
quickly and easily for post production editing just like the studios
for publication. On Mac share movie directly with iTunes Garageband or
iMovie.

•Time Lapse, unlimited automatic time lapse capture

•Network compatible - easy install for networks

•Import I Can Animate V1, V2 and Animate It! files

•Import files created on iPhone, iPod or iPad, must be created using Animate It! or I Can Animate for iOS

•Windows supported Languages - English, Russian, Chinese (Traditional)

•Free updates within version number
PHEW!!!!!

With Animate It!, the only limitation is your imagination.
---
System Requirements
To be able to use Animate It! your computer must meet the following minimum system requirements:
Windows XP/Vista/7/8
Microsoft .Net Framework 4 (available as a free download from the Microsoft website)
Graphics card recommended and should support DirectX 9 shader model 2.0
Intel Mac, OS X version Snow Leopard 10.6.0 or later (OS X version Lion 10.7.0 or later recommended).
2GHz CPU
1.5GB RAM (2GB RAM recommended)
100MB free disk space
USB webcam/inbuilt webcam or FireWire DV camera
---
Reviews
---