AT Profile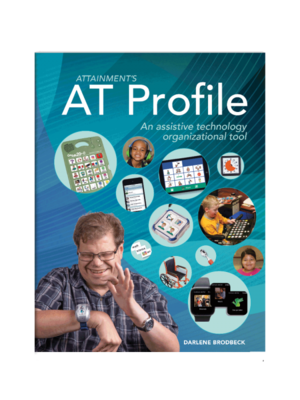 Description
The AT Profile organizes and tracks your use of AT tools for individual students across multiple locations and school years. It also helps determine the effectiveness of AT interventions, and provides information for IEP teams. Includes low-tech to high-tech equipment.
Incorporates new technologies like the iPad and apps
Tracks usage across multiple school years
Covers a broad spectrum of AT interventions: communication, vision, seating, mobility, academics, daily living activities, and more
Available as book only, and as a Introductory Package with book plus a Win/Mac CD with electronic documents in two formats: PDF for printouts and customizable Word documents for entering profile data on the computer.
By Darlene Brodbeck, MS, CAGS. AT Specialist. Softbound book, 35 pages, 2012.
AT Profile
AT Profile
#ATP-02W
Price: $11.50

SRP: $12.00

AT Profile Introductory Package
#ATP-03W
Price: $47.00

SRP: $49.00
---
Features and Benefits
Covers a variety of AT tools including: communication, vision, seating, mobility, academics, and daily living activities
Provides organizational structure for tracking student data
Introductory package includes a CD with PDF printouts and customizable documents
---
Reviews
---