AUTISM LANGUAGE ACTIVITIES WHERE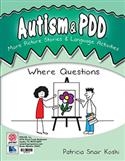 Description
Ages:8-12Grades:3-7
Lighthearted Matt & Molly stories have students answer "where" questions and determine story endings. The story cards, lesson plans, and teaching strategies springboard to learning essential language skills.
A "where" question is posed in each story, giving students a choice between two different story endings. The format builds anticipation and lets children determine and participate in the story's outcome.
Each story and its lesson plan is a launch pad for interactive language activities in:
sequencing
inferring, predicting, and reasoning
"where" questions
narrative language and descriptive language
literacy and text comprehension
parts of speech

nouns
verbs
pronouns
adjectives
adverbs
prepositions
conjunctions
interjections
The program has materials and lesson plans for eight stories and includes:
40 sturdy, full-color 8½" x 11" sequence pictures (five for each story)
48 large-print sentence strips per story (six for each story)
a teacher manual with:
two-day lesson plans for each story
take-home page with mini-story pictures for each story
teaching techniques and adaptations for nonverbal children
progress chart
You can easily adapt the lessons and materials to meet the needs of individuals, small groups, or an entire class. The lessons are infused with teaching techniques especially for children with autism and PDD.
The activities include:
describing the people, places, and things in the story pictures
learning new vocabulary concepts
predicting the next event in the story
answering a wh- question and choosing the story ending
retelling the story
identifying the missing picture
matching sentence strips to pictures
acting out the story
identifying parts of speech
take-home story sheets
COMPLETE KIT INCLUDES:28-page lesson plan book; 40, 8½" x 11" story cards; 8 sheets with print sentences, vinyl folder. (©2013)
AUTISM LANGUAGE ACTIVITIES WHERE
Publisher: Pro-Ed Inc
Grade Level: All
Item #: 37641

#37641
Price: $42.00

SRP: $42.00
---
Reviews
---