AUTISM PICTURE CARDS WINTER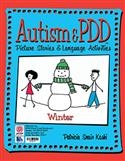 Description
Ages:Ages 3-8Grades:PreK-3
Humorous Matt and Molly stories engage children and teach essential early langage skills. Consistent lesson routines, simple story lines, and hands-on activities help them succeed!
Eight theme-based stories and activities target skills in:
narrative language
vocabulary and concepts
answering questions
sequencing and predicting
determining what's missing
reading comprehension
The program includes eight stories with:
four full-color, 8½" x 11" sequence pictures for each story (32 total pictures)
four large-print sentence strips per story that students match to the correct illustrations (32 sentence strips for each program)
six wh- and how word cards, a Yes card, and a No card for the question-asking activities
a teacher manual with complete lesson plans and teaching techniques designed to engage students in learning. The manual includes:

ready-to-use lists of yes/no, wh-, and how questions for each story
target vocabulary/concept words
teaching suggestions
a list of easy-to-find props for role-playing each story sequence
Each lesson follows the same two-day routine and can be used with one student, a small group, or an entire class. Matt and Molly are the main characters of every story, so students begin to consider them good friends as they progress through each lesson.
Day one routine is:
sing the Matt and Molly theme song
introduce the story
describe the picture cards and introduce the vocabulary/concepts
predicting activity
story review activity
sequencing activity
what's missing activity
match printed sentences to the corresponding picture
yes/no questions activity
wh- and how questions activity
preparing to act out the story activity
Day two routine is:
sing the Matt and Molly theme song
story review activity
act out the story
anticipate the next story activity
Target 60 vocabulary words and concepts as you teach the simple story line and ask questions. The story titles are:
Molly Makes a Snowman
Soup for Molly
Let's Play Basketball
Molly is Cold!
A Gift for Molly
Happy New Year!
Riding a Sled
A Sweater for Molly
COMPLETE PROGRAM INCLUDES:17-page manual, 32 8½" x 11" story cards, 9 perforated sheets with large print sentences and question flash cards, vinyl folder. (©1998).
AUTISM PICTURE CARDS WINTER
Publisher: Pro-Ed Inc
Grade Level: All
Item #: 37611

#37611
Price: $37.00

SRP: $37.00
---
Reviews
---