AUTISM PICTURE SS SCHOOL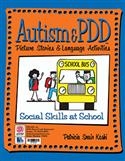 Description
Ages:Ages 3-8Grades:PreK-3
Social learning is interactive and concrete when loveable Matt and Molly show youngsters the right and wrong ways to act at school. Engaging stories and a predictable lesson format reduce anxiety and increase compliant behavior.
Program includes eight stories (a total of 40 stories) with:
four full-color, 8 1/2" x 11" pictures to tell each story (32 story sequence pictures for each program).
four large-print sentence strips per story that students match to the correct illustrations (32 sentence strips for each program).
question flash cards and wrong/right cards for students to learn ways to act in social situations.
a teacher manual with complete lesson plans and teaching techniques designed to engage students in learning. The manual includes

ready-to-use lists of yes/no, wh-, and how questions for each story
teaching suggestions
a pocket-size version of each story
a list of easy-to-find props for role-playing each story sequence
a progress chart
Each lesson follows the same two-day routine and can be used with one student, a small group, or an entire class. Matt and Molly are the main characters of every story, so students begin to consider them good friends as they progress through each lesson.
Day one routine is:
sing the Matt and Molly theme song
introduce the story
describe the picture cards and introduce the vocabulary/concepts
predicting activity
story review activity
differentiate right and wrong behavior
what's missing activity
match printed sentences to the corresponding picture
yes/no questions activity
wh- and how questions activity
preparing to act out the story activity
Day two routine is:
sing the Matt and Molly theme song
story review activity
act out the story
anticipate the next story activity
homework sheet with pocket-size version of the story
Includes:28-page lesson plan book; 32 8½" x 11" story cards; 10 perforated sheets with large print sentences, question flash cards, and wrong/right cards; progress monitoring chart; vinyl folder. (©2008)
AUTISM PICTURE SS SCHOOL
Publisher: Pro-Ed Inc
Grade Level: All
Item #: 37605

#37605
Price: $34.00

SRP: $34.00
---
Reviews
---