BIG TalkingBrix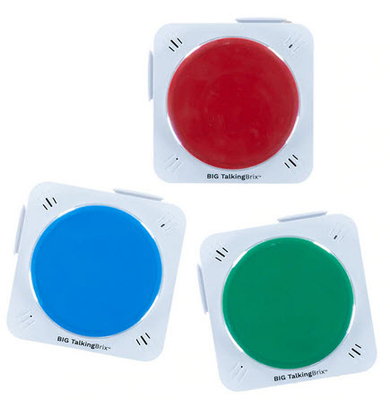 Description
The new BIG TalkingBrix is a huge hit with anyone looking for an easy-to-use single or multi-message message communication solution.

BIG TalkingBrix is a set of three single-message communication devices that can be used individually or attached to create a multi-message communication device. Each BIG TalkingBrix can play a message up to 10-seconds long.

The 3.4-in / 8.6-cm colored top on each BIG TalkingBrix is easy to activate with only 2.5-oz/71-g of force. Each BIG TalkingBrix includes a clear snap-cap so you can attach a picture symbol of your choice. BIG TalkingBrix contains a long-lasting rechargeable battery.

Possible use scenarios:
Use individually to request "I need help" or "May I have"
Use multiple together to play a game where one requests to take a turn, second comments on how the game is going for them (e.g. I'm having fun), and the third says something complementary to the others playing the game
Download our guide for single and sequential messaging for additional use ideas
BIG TalkingBrix Features:
Amplified dual speaker sound output
Record lock prevents a user from accidentally erasing a message
Easily mount with a strip of Velcro or the internal magnet
Integrated rechargeable battery in each TalkingBrix. Link TalkingBrix together to charge all three at the same time.
Clear snap cap for attaching printed picture symbols
Safety Shut-Off
The BIG TalkingBrix battery contains a safety feature that temporarily disables the device if the battery reaches 113-degrees Fahrenheit / 45-degrees Celsius. BIG TalkingBrix will continue to work once the battery temperature decreases below 113-degrees Fahrenheit / 45-degrees Celsius.
BIG TalkingBrix
Publisher: AbleNet Inc
Grade Level: All
Item #: 10000050
each
#10000050
Price: $285.00

SRP: $295.00
---
Features & Benefits
Each pack of 3 Talking Brix includes 1 each in Red, Blue, and Green.
Dimensions: 2.56" x 2.56" x 0.6" (L x W x H)
Activation Area: 1.8"
Talking Brix feature:
Connectable devices for customizable layouts
Easy single-message recording on each Brix
10 seconds of recording time
Power on/off switch
Rechargeable battery (built-in)
1.8" Activation area
Free Snap Switch Cap included
---
System Requirements
Activation Type: Pressure
Activation Force: 2.5-oz/71-g
Activation Surface Size: 3.5-in/8.8-cm
Recording Time: 10-sec
Number of Message Locations: 1
Battery Type: Rechargeable
Weight: 5.7-oz/162-g per BIG TalkingBrix
HCPCS Code: E2500
Product Warranty: 2-year limited warranty
---
Reviews
---