BIGmack Communicator Multi-Color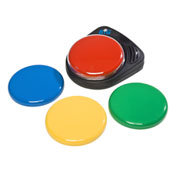 Description
The new BIGmack includes all of the great features youíve come to love with the original BIGmack, but now includes improvements that make it easier to use.

Improvements to the new BIGmack include:
Re-engineered battery door with a tool-less locking mechanism to ensure it stays in place when the device is in use but is easy to open when you need to replace the battery
Soft-touch coating provides extra grip when holding the device
Mounting that is stronger and easier to use
The BIGmack is the easiest and most effective way to provide to introduce single message communication to a user. Record a message up to 2-minutes long onto the BIGmack, and youíre ready to go.

The BIGmack is perfect for making a request, participating in an activity, or making a choice. The possibilities when using a BIGmack are endless.

BIGmack features:
Better-than-ever digital sound loud enough for almost any environment
Up to 2-minutes of record time
25% more battery life than older versions
Includes red, yellow, green, and blue tops along with a clear snap cap that holds a picture symbol on the device
Requires one 9V battery (not included)
BIGmack Communicator Multi-Color
Publisher: AbleNet Inc
Grade Level: All
Item #: 10000041
each
#10000041
Price: $139.00

SRP: $155.00
---
Features & Benefits
Thatís not all thatís been improved!
New technology inside our BIGmack provides:
Better-than-ever digital sound
40% more recording time
25% more battery life
Switch tops included: Red, Yellow, Green, Blue
Easy single-message recording
Crystal-clear digital sound
Volume control and ON/OFF switch
External switch jack for specialty switch operation
Toy/Appliance jack with cable
Requires 9-volt battery (not included)
---
System Requirements
Messages/Levels: 1 message up to 2-minutes long / 1 level
Recording Time: 2-min
Switch Input: 1
Toy/Appliance Output/ECU: 1
Activation Surface: 5-in/12.7-cm
Activation Force: 3 to 5-oz/85 to 142-g
Weight with Battery: 15.5-oz/439-g
Battery Type: 9-volt, It is highly recommended to use a standard alkaline 9V battery with this device. Alternative batteries may be comprised of materials that do not distribute power in a suitable manner, and when installed, some users may experience inconsistencies.
Accessories Available: Shoulder strap
Mounting Connection: Universal Mounting Plate
HCPC Code: E2500
---
Reviews
---