Briefcase Inclusion Series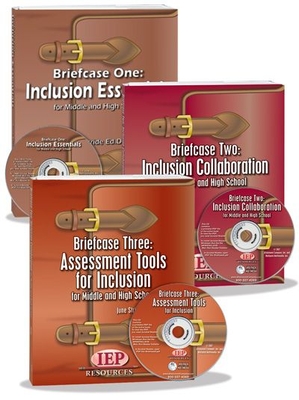 Description
A set of three books for creating an inclusive classroom environment for secondary students
Three spiralbound books with reproducible PDFs that provide a ton of "grab and run" materials for inclusion educators who are long on professional desire but short on time. Each activity focuses on a strategy that helps the inclusion teacher be positive and proactive.
Briefcase One shows you how to get the ball rolling on your inclusion program, including tiering instruction, dealing with discipline problems, and stressing strong teacher-to-parent and teacher-to-student relationships.
Briefcase Two gives strategies for strong co-teaching collaborations and planning and implementing inclusion classrooms together.
Briefcase Three provides critical assessment and evaluation tools necessary to succeed with your inclusion program.
All books by veteran teacher and author Dr. June Stride. Three covered spiralbound books, 88, 68 and 103 pgs., each with a Win/Mac CD with printable PDF, 2007.
Briefcase Inclusion Series
Briefcase Inclusion Series
#BW-08W
Price: $37.00

SRP: $39.00
---
Features and Benefits
Provides strategies for instruction and classroom management, co-teaching, and evaluating success for an inclusive classroom
Features a series of reproducible PDFs
---
Reviews
---