Clicker 8 Subscription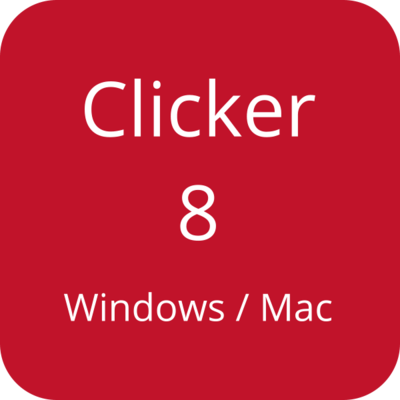 Description
What's new in Clicker 8?
Clicker 8 builds on the worldwide success of its award-winning predecessors. It's inclusive, it's engaging, it's intuitive, and it enables teachers to give every learner the personalized, evidence-led support they need to take their literacy skills to the next level.
Clicker Cloze
Cloze activities are many a teacher's go-to resource for comprehension exercises. They're also fantastic for developing core reading and language skills. With Clicker Cloze, you can create a cloze activity using any text in just a few seconds. Complete within Clicker or print out for use away from the computer.
Clicker Analytics
Clicker enables struggling writers to produce finished pieces of work that just wouldn't be possible without its support. But wouldn't it be great to see how your learners achieved this? Clicker 8's brand new analytics tool records each student's writing journey. See how the writing task was completed, with detailed information about the tools that were used, to make informed decisions about each student's current support levels and progress-boosting next steps.
Picturize
Whether used for visual stimulation, talking points, or to aid understanding, pictures are a valuable tool for supporting literacy development. Select the 'Picturize' button to instantly add pictures to any Clicker grid, including Sentence Sets and Word Banks. The updated CrickPix bank includes over 4,500 curriculum pictures, and you can also incorporate your own images or use one of the add-on symbol sets.
More curriculum resources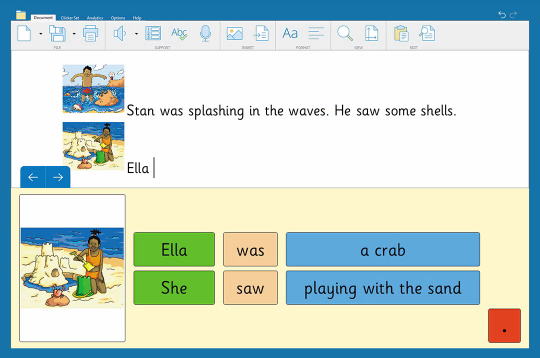 The all-new LearningGrids zone includes powerful new search tools so you can find the ready-made Clicker resources you need, faster. Use 'Resource Families' to quickly find groups of literacy activities on the same topic. Plus, we've added hundreds of new resources based on our award-winning 'Powered By Clicker' titles, including the Find Out & Write About non-fiction series, Planet Wobble talking books for struggling readers, Clicker Tales for Early Years, and our New to English resources for English language learners.
Books and Boards

Two of your favorite Clicker activities are now even easier to create and customize. Choose from a selection of easy templates when you start making a Clicker Book or Board, with much more control of the layout and 'look and feel'. Clicker Book fans will also be excited by our new 'Add video' option to quickly bring books to life!
Clicker 8 Subscription
Free Shipping
Publisher: Crick Software
Grade Level: PreK-7
Platform: Mac / Win
Item #: CRK001
Clicker OneSchool 1 + 1 License (3-year sub)
#CRK001
Price: $649.00

SRP: $660.00

Clicker OneSchool 5 Licenses (3-year subscription)
#CRK001L5
Price: $1,299.00

SRP: $1,320.00

Clicker Upgrade - OneSchool 10 Licenses (3 yr sub)
#CRK001L10
Price: $1,599.00

SRP: $1,650.00

Clicker Upgrade - OneSchool Site License (3 yr s)
#CRK001SL
Price: $4,899.00

SRP: $4,950.00
---
Features and Benefits
Help every child achieve writing success
At the heart of Clicker sits a child-friendly word processor. Watch your students confidently tackle writing tasks with help from Clicker's realistic speech feedback, talking spell checker and word predictor.
Jump-start writing tasks
Clicker Grids enable students to write with whole words and phrases. Emerging writers build sentences word-by-word, while Word Banks provide scaffolding to support developing writers.
Harness the power of pictures
Clicker 8's new 'Picturize' button instantly adds pictures to any Clicker Grid, helping children to find the word they want. Choose from over 4,500 Clicker curriculum pictures or use your own.
Boost speaking, listening and reading skills
Make curriculum content accessible for all with talking Clicker Books, support emergent readers and English language learners with Matching Sets, or use Talk Sets to develop speaking and listening skills.
Organize ideas
Organizing ideas is a vital first step in the writing process, and one that many learners struggle with. Clicker includes a child-friendly mind mapping area to help learners prepare for writing.
Save preparation time
Clicker includes free access to LearningGrids, an ever-growing bank of ready-made classroom resources. Our activities are created by experienced teachers and cover a range of elementary topics.
Check understanding
Cloze activities are a great way to assess students' topic knowledge, as well as their ability to use semantic and contextual clues. Create your own Cloze activities in a matter of seconds!
Assess student progress
Clicker 8's Analytics tool gives you unique insight into each learner's writing process, helping you make informed decisions about their current support levels and the most effective next steps.
Provide access for all
In addition to extensive support for learners with reading and writing difficulties, Clicker 8 opens the door for students with a wide range of additional needs, including switch and eye gaze users.
---
Videos
---
System Requirements
OneSchool™ packs can only be used within one school. If you are purchasing for multiple schools across a district, please contact us directly for prices. All prices listed are for OneSchool licensing.
Clicker universal licensing enables you to 'mix and match' Clicker 8 licenses for your Windows/Mac machines with Clicker Writer licenses for your iPads and Chromebooks. For example, if you purchased a subscription for '10 licenses' of Clicker, this could be 10 licenses for Clicker 8, or 5 for Clicker 8 and 5 for Clicker Writer etc…choose whichever combination works best for your school's set-up. The licensing for Clicker 8 (Win / Mac) and Clicker Writer (iPad) is per device. Clicker Writer Chromebook licenses are per user.
All licenses last for 3 years. Best value is the OneSchool Site License which enables you to install on an unlimited number of devices in your school AND includes home access for your students and teaching staff.
Clicker 8 works on Windows and Mac computers.
Windows specifications: Windows 8.1 or Windows 10. Click here for full details.
Mac specifications: High Sierra (10.13) or above.
*Clicker@home provides home access for all students and staff to Clicker 8 on Windows/Mac and Clicker Writer on iPad/Chromebooks.
---
Reviews
---