CrazyTalk 8 Pro - Academic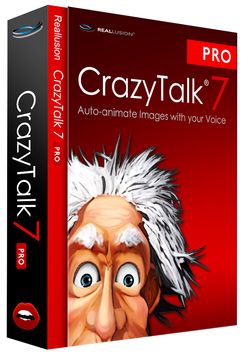 Description
Watch their demo video - a great example of how easy it is to use!
CrazyTalk is a revolutionary tool for creating sophisticated, zany or dramatic talking characters for unique digital content. Simply import an image and Crazy Talk guides you through the process to bring it to life with wizard-like menus for beginners and in-depth power editors for pros.
Students are laughing. Students are having fun. Students are immersed in what they are doing. CrazyTalk's powerful facial morphing animation technology is all you need to transform photos, historical figures, authors, fine art, classroom artwork and more into animated talking characters.
CrazyTalk 8 Pro - Academic
Publisher: Reallusion
Grade Level: 6 - Adult
Platform: Win
Item #: 30420
Single - Win ESD
#60420W
Price: $98.95

SRP: $104.00

Single - Mac ESD
#REA001M
Price: $98.95

SRP: $104.00

10 License Lab Pack - Win
#REA001WL10
Price: $899.95

SRP: $936.00

10 License Lab Pack - Mac
#REA001ML10
Price: $899.95

SRP: $936.00

20 License Lab Pack - Win
#REA001WL20
Price: $1,649.95

SRP: $1,684.00

20 License Lab Pack - Mac
#REA001ML20
Price: $1,649.95

SRP: $1,684.00
---
Features & Benefits
TURN IMAGES INTO TALKING VIDEOS:
- Create 3D talking characters from any photo or image.
- Easy tools to adjust eyes, lips, mouth and teeth.
- Add automatic facial expressions and face morph effects.
MAKE IMAGES TALK WITH VOICES AND TEXT:
- Automatic lip-sync animation performance from any audio or typed text.
- Apply any instant animated emotions and gestures.
- Add animated SFX for fun character disguises.
TURN HUMAN & NON-HUMAN OBJECTS INTO TALKING AVATARS:
- Import images for custom teeth and eyes from teeth and eyes library.
- 9 customizable character styles to match a variety of characters, from human to non-human such as cartoon, animal, machine and more.
EDIT THE FACIAL EXPRESSION INSTANTLY & PRECISELY:
- Use a mouse or a handheld device to puppet character animation in real-time.
- 5 puppet profiles for instant facial expression presets.
- 6 attitudes matching various puppet personalities.
The application program lab packs (CrazyTalk, Animator and iClone) now include an Essential Content Library, a collection of popular content.
---
System Requirements
**Proof of Academic Affiliation required when ordering**
Windows 8 /Windows 7 /Windows Vista /Windows XP (With Service Pack 2 or later)
Mac: OS X v10.6.8 or OS X v10.7.5 or OS X v10.8.2 or later
---
Reviews
---