Daily Reading Comprehension Books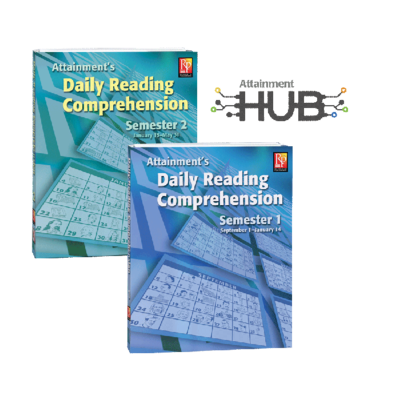 Description
A series of short, nonfiction stories for each day of the academic school year.
The books are arranged by date: Semester 1: September 1 through January 14 and Semester 2: January 15 through May 31. Each nonfiction story, written at a third to fourth grade level, describes an event that happened on that date and is followed by comprehension exercises.
The software presents the books' same high interest, easy-to-read stories in a multimedia format to support struggling readers.
Daily Reading Comprehension Books an excellent resource to share with parents for home-based reading practice. Stories and activities can be photocopied or printed from the PDF. Each book is reproducible and includes a downloadable PDF for quick printouts. Comprehension exercises feature crossword puzzles, word pyramids, fill in the blanks and true/false questions. A related research option for each story encourages students to use a dictionary, atlas or encyclopedia to gather additional information.
Daily Reading Comprehension Books
Daily Reading Comprehension Books
#DRC-10W
Price: $129.00

SRP: $149.00
---
Features and Benefits
Stories are written at a 3rd-4th grade reading level
Describes an event that happened on each date with follow-up comprehension exercises
Ideal for photocopying and sending home as homework
Software offers a read aloud option while highlighting text and monitoring progress
---
Reviews
---