Hybrid Learning Tips


We've all heard the phrase, "Let's not reinvent the wheel." This goes for our education resources as well. Whether free or for a cost, there are many resources already created that we can utilize in our new hybrid environments.
As an example, I found this goldmine to accompany the Saxon Math programs that we sell to schools, both schools and homeschools, Nicole the Math Lady!
Nicole gives a small video, between 1 to 4 minutes, for every single lesson. Introducing the lesson and working through several examples. Now, you can easily assign your Saxon Math lesson beginning with a video introduction.
Can you imagine, coming back to school with all of the materials you need, the math books and the video introduction to each lesson. In her new release, you can also sign up for grading! What! Grading? Yes, she just launched the new platform that also saves the test scores and progress!
---
Wow. A single word to sum up the last three months of activity. Our teachers are amazing and inspirational to say the least. Quick responses, adjusting learning environments and continuing to instruct given all of this uncertainty. You got the job done.
It's time to take one step back, take a deep breath and imagine what you want your classroom and curriculum to look like next year. What will this new environment bring? How can we take what we have learned in the whirlwind of change and apply the best parts as we move forward, whatever that may be?
We've already been adapting to a Blended Learning environment, now we are adding Hybrid Learning to this model. Our new norm? Perhaps, some of us have been using forms of the model. But, let's say at least a new dynamic on how we develop the next set of lessons and classroom schedules.
Hybrid learning is a way of combining traditional classroom experiences, experiential learning objectives, and digital course delivery that emphasizes using the best option for each learning objective.

We have some amazing learning environments (Google Classroom, Schology and Edmodo to name a few) and our digital students are successfully navigating these tools. I witnessed struggles with the increased time students spent on the computer. Right about third grade, students were spending more time entering the information on docs or slides to complete the book reports, biography reports and writing assignments than it took them to write the assignment. Can we help our students with new skills to navigate this environment easier?
Does your school or district have a time set aside for keyboarding instruction? Have you considered adding a 20 minute sessions to the schedule 2-3 times per week? Now might be the perfect time to start.
When Should Keyboarding be Taught? Educators generally agree that students have developed the proper level of dexterity and eye-hand coordination for efficient keyboarding by third or fourth grade. Their hands have grown to fit the standard-sized keyboard and their attention span has developed enough to last the length of a typical keyboarding lesson which is 20-to-40 minutes (Boyce & Whitman, 1987; McLean, 1994; Russell, 1994). At this level, students' writing requirements have also developed enough to have a need for efficient written communication.
There are many programs to consider and not all fit every environment.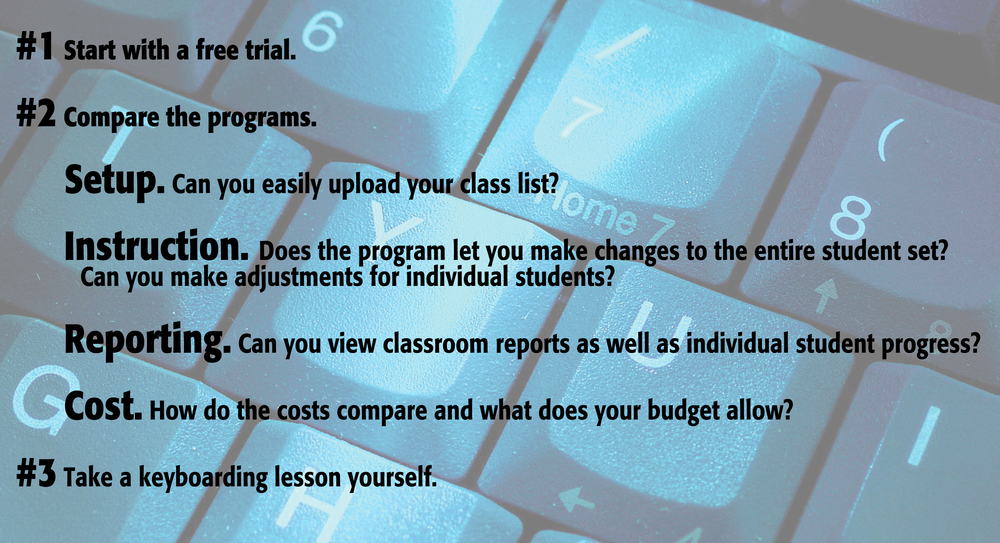 Spend some time on a lesson. Understand how the program progresses you through the keys. Was it engaging? Did you feel successful? Did you want to continue? How do you think your students will like the layout? NOTE: Many keyboarding programs allow the teacher to designate how GAMEY you want the instruction. You have many choices and should consider these during setup.
Are you ready to make a recommendation to your school leadership? Do you need a quote to present?
Here are a list of the top keyboarding programs for schools. (All have a free trial available! wink, wink).
Typing Pal Online
This online, self-paced curriculum is available for your class with a free account for 30 days.
Best Selling Online Keyboarding!
Typing Tournament Online

A highly innovative, instructional typing tutor for use in homes and schools. The content of Typing Tournament Online is divided into 16 Lessons, with accompanying Drills, Games and Tests.

Typing Agent
This online, self-paced curriculum is available for your class with a free account for 30 days.


Building a community and collaborating with teachers is essential and so very easy to do. Below are few of these resources to inspire and enhance collaboration.
This Facebook group, Global Educator Collective, open only to educators, was created to support educators who are planning distance or online learning.

Teachers Using Google Classroom
Find all types of wonderful tips for using GoogleClassroom within this Facebook page.

I've attended ISTE since the early 2000s, I love engaging in learning and collaboration, my favorite part. I found this course and wanted to share it right away.

3 weeks of learning for just $20!

Online learning support for K-12 educators in a flexible format that works for you! Whether you're teaching online or in a blended setting, ISTE's three-week Summer Learning Academy will prepare you for school this fall.

This is a support group for teachers to provide assistance about the new normal classroom that we are facing now. It will provide more information about how blended learning works. Modules, worksheets and other learning resources are free to download here.
Keep following, we have so many more posts to share.
- Tips on blended learning books/online courses!
- Links to the latest news!
- Groups to help us think outside-the-box and support!
Happy Learning & Teaching!