Edmark Reading Program Level 1 Second Edition Complete Print Kit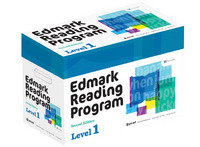 Description
READING LEVEL: K - Grade 1
INTEREST LEVEL: K - Adult
Widely regarded as the "one that works," the Edmark Reading Program has long helped students who need an alternative to phonics.
The key to this success is the program?s use of a carefully sequenced, highly repetitive word recognition method combined with errorless learning. This approach eliminates incorrect responses and helps students view themselves as readers.
Edmark Reading Program Level 1 Second Edition Complete Print Kit
Publisher: Pro-Ed Inc
Grade Level: K-Adult
Item #: 13620
each
#13620
Price: $660.00

SRP: $660.00
---
System Requirements
COMPLETE LEVEL 1 PROGRAM:
Program Overview
Mastery Test
5 Lesson Plan/Record Books
Word Recognition Books 1-3
Picture Match cards and boards
Phrase Match cards and boards
Stories 1-3
Reading and Social Skills Games
2 Display Masks
Word Signs DVD
5 The Rides and certificates.
---
Reviews
---