Edmodo
Publisher: Edmodo
Grade Level: All
Item #: Edmodo
Call for Demo
#Edmodo
Price: $0.00
Description
Edmodo provides schools and districts like yours with an all-in-one solution for distance learning and hybrid learning. With proven LMS, communication, and collaboration tools, Edmodo connects all stakeholders to support learning anywhere.

Given your role, we wanted to make sure you have the opportunity to chat with us one-on-one and learn how Edmodo can meet the specific needs of your learning community.
Contact Our Enterprise Team
Here's how Edmodo can make distance learning easier for everyone:
Teachers, students, parents, and staff can communicate and access what they need for learning all in one place
Synchronous and asynchronous learning are supported by flexible LMS and classroom tools for instruction, assessment, collaboration, and gamification
Admin tools provide easy implementation and member management, with help from Edmodo's award-winning customer support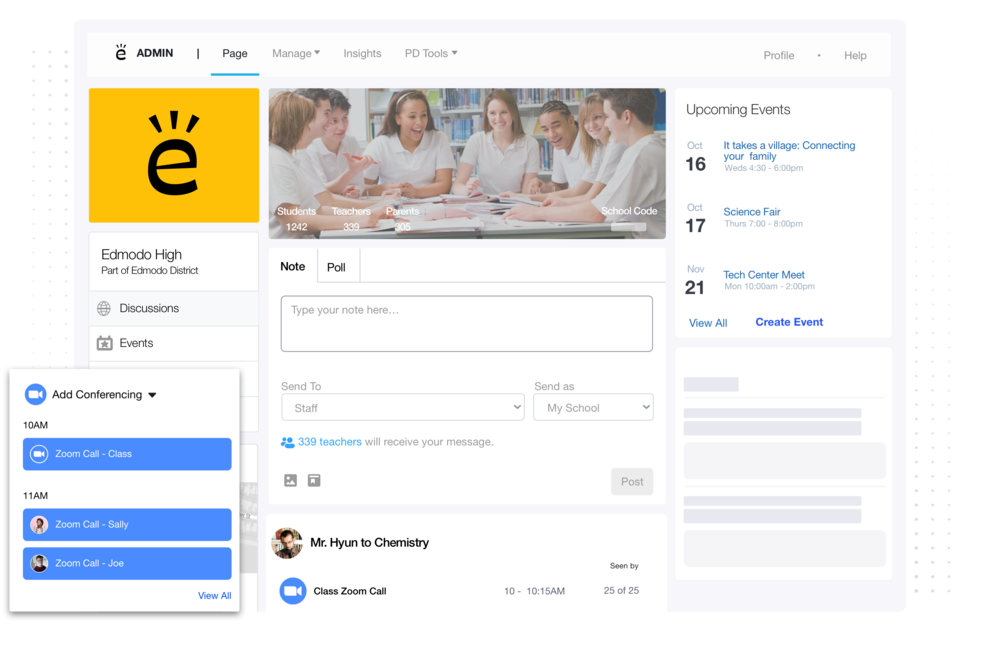 ---
Features & Benefits
Learn Better Together
Manage your classroom. Engage your students.
Safe. Simple. Free.
Tools that teachers need
Send messages, share class materials, and make learning accessible anywhere. Save yourself time by bringing all your classroom tools together.
Conversations that change lives
Everyone remembers the teacher who made a difference in their life. With communication tools like Posts and Messages, Edmodo helps you be that teacher for your students.
Lessons for 21st-century students
It feels like magic when a lesson captivates students and improves their understanding. With Edmodo, it's easy to share digital assignments, create quizzes, or bring your favorite tools onboard.
Resources by teachers, for teachers
No teacher is an island—find a community of peers that will support you when you need it most. Get inspired for your next lesson by exploring Discover, browsing Spotlight, or following hashtags on Edmodo.
---
Reviews
---