Enhance Academics: Secondary Math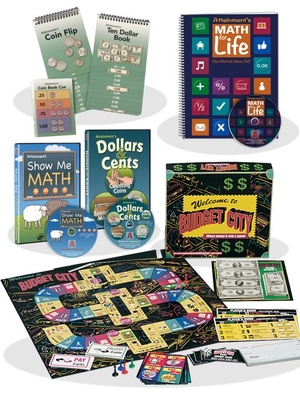 Description
NEW! A set of supplemental resources to enrich a core math curriculum for secondary students
AN INEXPENSIVE, SIMPLE WAY TO SUPPORT YOUR CORE CURRICULUM OF CHOICE!
Dollars & Cents Software highlights the progression of money skills: Counting Coins, Spending Money, and Making Change.
Show Me Math Software links computation with objects using an animated movie for all four math operations.
Money Books simplifies money identification through laminated cue books.
The Math for Life student book helps students learn six fundamental math concepts like measurement and percent through clear illustrations, graphic organizers, and high interest stories.
The Budget City interactive math game gives students practice in paying with checks, credit cards, or cash.
Whether you've adopted Attainment's Core Solutions or have a different core curriculum in place, our Enhancement packages for students with an intellectual disability or autism will enrich your lessons in English language arts and math (for elementary and secondary), math tools, and transition.

Each component has been hand-selected for its ease of use and effectiveness with a purposeful blend of print, software, and manipulatives to meet the needs of unique learners. All student books provide age appropriate content with dozens of activities that align to standards and extend your core resources. Included with each student book is a PDF on disc with an unlimited Classroom License for printouts.

Software titles include everything needed for students to excel: an accessible user interface, visual and audio support, prompting with feedback, and positive reinforcement.
Enhance Academics: Secondary Math
Enhance Academics: Secondary Math
#EN-SM10W
Price: $219.00

SRP: $229.00
---
Features and Benefits
Provides a blended approach to math with print materials, software, and hands-on activities
Offers extension exercises to facilitate and reinforce students' learning
Includes: Dollars & Cents Software, Show Me Math Software, Money Books, Math for Life Student Book, and Budget City
---
Reviews
---