EPACC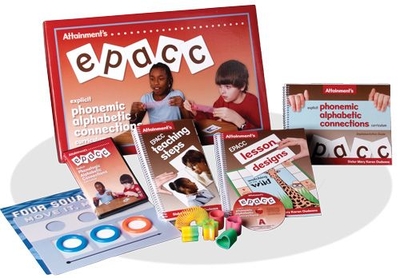 Description
The research-based, Explicit Phonemic Alphabetic Connections Curriculum connects sounds in spoken words to letters in the alphabet
EPACC complements your core reading curriculum by making these important connections transparent to students who are at risk of reading difficulties. EPACC focuses on specific skills validated by research: phonemic awareness, alphabetic understanding and fluency with the alphabetic code.
EPACC is:
a single or multi-year program
taught with systematic and explicit instruction in small groups or one-on-one
presented to students in 20-minute sessions, 4 times a week
for students in RTI 2, grades K-2
for students with mild to moderate developmental or learning disabilities, grade K-6
aligned to state and national standards, including the common core
EPACC incorporates principles of direct instruction such as a model-lead-test format, correction procedures and the opportunity for group and individual responses. Lessons are scripted and delivered in 20-minute sessions 4 times a week. The Scope and Sequence (see Samples tab for a PDF) begins at prekindergarten and ends at a 1.5 grade level. Based on the progress of your students, EPACC functions as a single or multi-year program. EPACC includes everything you need!
Compartmentalized storage box to reduce prep time
Implementation Guide with Getting Started, Scope and Sequence, Assessment
Forms, and Research Synopsis
33 scripted activities (Tabs) in Teaching Steps Manual
Lesson Designs book with lesson outlines, material lists, and extension activities
365 letter, word, sentence, and picture cards
Hands-on instruction boards
7 theme-based game boards and pieces
Stripe, the puppet
Stretch, the slinky
Let's Read storybooks
Image library on CD
Getting Started Staff training DVD
See the Videos tab above for video clips of the scripted activities in the Teaching Steps Manual. Click on the Samples tab for PDF samples pages from the Implementation Guide, Lesson Designs and Teaching Steps books, and also the entire Scope and Sequence of the EPACC Curriculum.
By Sister Mary Karen Oudeans, PhD, Professor of Special Education at Silver Lake College. Spiralbound books: Implementation Guide, 80 pages; Teaching Steps Manual, 34 pages; Lesson Designs book, 204 pages. 365 letter, word, sentence and picture cards; hands-on instruction boards; 7 theme-based game boards and pieces; a zebra puppet; SlinkyŽ; Let's Read storybooks, image library on CD, and staff training DVD.
EPACC
EPACC
#EPC-10W
Price: $425.00

SRP: $495.00
---
Features and Benefits
Aligns with state and national standards
Complements a core curriculum with short sequenced lessons
Focuses on phonemic awareness, alphabetic understanding, and fluency with the alphabetic code
Includes an implementation guide with scripted lessons, assessment forms, and research synopsis
---
Reviews
---