Explore Life Skills Package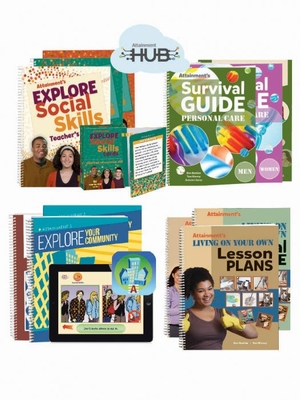 Description
Build independence through social, community, and daily living skills
Includes Explore Social Skills, Explore Personal Care, Explore Your Community, and Living on Your Own
Activities in step-by-step sequences for easy implementation
Comprehension quizzes and self-monitoring checklists help to track progress
Emphasizes social skills training across the four titles
Explore Life Skills Package
Explore Life Skills Package
#LSP-10W
Price: $699.00

SRP: $799.00

Explore Life Skills Package Plus
#LSP-30W
Price: $1,499.00

SRP: $1,599.00
---
Features and Benefits
Attainment's Explore Life Skills Package provides activities in step-by-step sequences for easy implementation. Comprehension quizzes and self-monitoring checklists help to track progress.
Four titles comprise this package, creating a comprehensive social and life skills training program.
Package includes Explore Social Skills, Explore Personal Care, Explore Your Community, and Living on Your Own.

---
Reviews
---