Finale PrintMusic 2014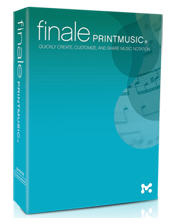 Description
Create professional-looking sheet music with ease
Finale PrintMusic is music notation software designed for educators,
worship directors, performing musicians, composers and arrangers who
don't require the most advanced features in Finale.
PrintMusic is easy to use and fun to learn. Quickly create
orchestrations of up to 24 staves, extract parts, hear your music play
back, and print beautiful sheet music.
Publisher-quality made easy
What will you create today?
Whether you're writing a lead sheet for your first song, or preparing a
score and parts for your next concert, PrintMusic music writing software
makes it easy to put your music on the printed page. But that's just
the beginning. With PrintMusic your music plays back with great sounds
and nuance, providing you with instant feedback on your progress.
PrintMusic offers creative suggestions—from harmonizing melodies to
providing drum parts—to fuel your creativity and save time. Most
importantly, PrintMusic produces great sheet music that will inspire
your performers to play even better.
Getting started
The Setup Wizard configures your key and time signatures,
transpositions, pickup measures and more—instantly. Want an engraved or
handwritten look? It's easy to personalize the appearance of your music.
Finale PrintMusic 2014
Publisher: MakeMusic
Grade Level: 5-Adult
Platform: Mac / Win
Item #: PHR14
Single Digital Download
#PHR14
Price: $117.95

SRP: $119.95

Lab Pack 5 Digital Download
#PHR14DCO
Price: $295.00

SRP: $300.00
---
Features and Benefits
More Note Entry Methods
Once your notes are in PrintMusic, you've entered a new world—a world
where you can quickly shape your music any way you wish. Transpose. Cut
and Paste. Rearrange. Transformations that would have required starting
over with pen and paper are accomplished instantly in PrintMusic.
Because no two musicians think alike, PrintMusic lets you enter your notes any way you wish:
Click notes into place with a mouse—and hear them as you do.
Enter notes in step-time from your computer or MIDI keyboard.
Play any MIDI device, with or without a metronome, and watch your music appear on screen in real-time.
Scan your music with SmartScore® Lite (included).
Import MIDI and MusicXML™ files.
Sheet music that plays back—beautifully
With PrintMusic, your music plays back, giving you instant feedback as
you proof and refine your work. What's more, it plays back beautifully.
Built-in sounds provide more than 128 instruments including professional
marching percussion sounds from Row-Loff™.
Control and Nuance
PrintMusic's integrated mixer lets you balance your music and place it
in a sonic space with panning reverb, and more. Human Playback performs
your creations with the nuance of live performers.
External Sound Library Support
PrintMusic supports all third-party VST/AU Instruments and Effects (sold
separately), providing you with unlimited sonic possibilities.
Professional Tools
With PrintMusic, you are capable of more.
From lead sheets to jazz band scores, from guitar tablature to
percussion notation, PrintMusic gives you the all the necessary tools.
Create scores with up to 24 staves. Extract individual parts from
your scores. Want more lyric verses? Need a one-line staff? Every step
of the way you have professional tools at your fingertips. A wide
variety of music fonts—offering engraved and handwritten appearances—are
included, and fonts and other preferences are easily accessed simply by
selecting a different document style library.
Education Tools
PrintMusic boasts more than 30 ready-made, customizable music education
worksheets. Designed for K-12 students, these educator-approved
worksheets help teach basic elements of music. Subjects covered include
clefs, scales, key signatures, circle of fifths and more.
Also included are classroom repertoire examples and more than 100
flashcards designed to print double-sided (with the answers on the back)
for classroom use or self-quizzing. Because they're provided as
PrintMusic files it's easy to edit them to your specific needs and print
them out, or distribute them via email to be printed by students with
the free Finale NotePad.
Print your music and so much more
You've created a great piece. Now you need to share it. With PrintMusic
you can print beautiful sheet music. You can also email files that
anyone can print and play with the free downloadable Finale NotePad or
the Finale SongBook iPad app. Working with someone using different
software? You can even share MIDI and MusicXML files.
Sharing Pictures and Sounds
PrintMusic lets you export JPEG graphics of any section or page, to add
music to any word processing document. Need something for the iPod®?
It's also easy to create MP3, WAV, or AIFF audio files.
Buy Finale PrintMusic and begin sharing your music today.
---
System Requirements
Windows®
Vista/Windows 7/Windows 8 (64-bit compatible)
Intel Core 2 Duo or AMD Athlon, Intel i3 or AMD Athlon II X2 and above recommended
2 GB of RAM, 4 GB or more recommended for optional use of VST sounds (more RAM = more sounds)
800X600 minimum monitor resolution, 1366X768 and above recommended
Internet connection for download install or CD-ROM drive for CD install
600MB hard drive space required for software and user manual
Mac®
OS X 10.7 – 10.9
Intel Core 2 Duo or better, Intel i3 and above recommended
2 GB of RAM, 4 GB or more recommended for optional use of AU sounds (more RAM = more sounds)
800X600 minimum monitor resolution, 1366X768 and above recommended
Internet connection for download install or CD-ROM drive for CD install
700MB hard drive space required for software and user manual
Optional
MIDI interface
MIDI input and/or playback device
Printer
Scanner
---
Reviews
---