Focus on Feelings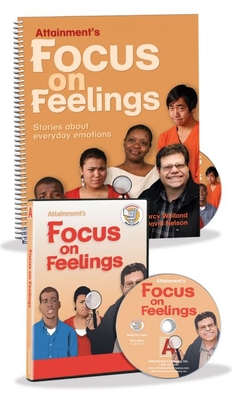 Description
A skills-based curriculum for adolescents and adults to develop an understanding of behavioral cues and different perspectives
Focus on Feelings book sold individually or in kits that include books, a PDF file and software:
Focus on Feelings Introductory Kit includes one book, one PDF CD, and the multimedia software on a Win/Mac CD. The PDF CD includes a printable PDF file with a Classroom License that lets you print stories for each student. Also on the CD are JPEG versions of the photos and illustrations of facial expressions appearing in the book. These can be used for worksheets, flashcards, or to illustrate the students' own stories.
Focus on Feeling Classroom Kit includes eight books, the PDF CD, and the multimedia software.
---
Focus on Feelings Book
Each of the 19 lessons opens with a title and text to introduce the story, followed by a symbol-supported dictionary of emotions page. Every page of the four-page story is a new scene, depicted with color photographs and text to illustrate the situation. Each story page also features a multiple-choice "How do I feel?" question, which requires the student to correctly identify, by facial expression, the character's likely response. Following the stories are two pages of symbol-supported review material and activities.

By Marcy Weiland and David Nelson. Spiralbound book in full color, 164 pages, 2010.
Focus on Feelings
Focus on Feelings Introductory Kit
#FF-15W
Price: $119.00

SRP: $129.00

Focus on Feelings Classroom Kit
#FF-25W
Price: $279.00

SRP: $299.00

Focus on Feelings Book
#FF-00W
Price: $33.50

SRP: $34.00
---
Features and Benefits
Provides photos of people expressing feelings, and stories and activities for discussion
Offers a contemporary language arts curriculum
Teaches students how to recognize and understand how people likely feel in a variety of situations
Software highlights text, and offers vocabulary definitions and a progress tracking system
---
Reviews
---