Getting Real Program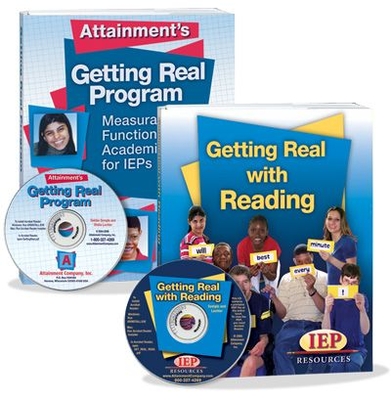 Description
A practical knowledge curriculum for math, English language arts, and word recognition
This comprehensive curriculum includes two books. Getting Real Program and Getting Real with Reading focus on teaching academic skills to students with intellectual disability, seventh grade to adult.
Getting Real Program emphasizes functional math and language arts. Math concepts include counting, paying bills, telling time, following a calendar and using a calculator. Language Arts activities cover writing, functional words and telephone skills. The pretest, instruction and post-test sequence is ideal for IEPs.
Getting Real with Reading features lessons for 36 weeks. This structured system stresses repetitive practice, group reading and survival word instruction.
By Debbie Semple and Shelia Lechler. Includes two spiralbound books, 2006, with PDFs on Win/Mac CDs with Classroom License for printouts.
Getting Real Program
Getting Real Program
#GR-03W
Price: $89.00

SRP: $99.00
---
Features and Benefits
Ideal for secondary and adult students with an intellectual disability
Includes structured pre-testing, planning, teaching, and evaluating
Covers functional skills like paying bills, telling time, and using the telephone
Provides sentences, worksheets, word cards, survival word cards, and discussion questions
---
Reviews
---