TechnoKids Senior Computer Curriculum Set
Publisher: TechnoKids
Grade Level: 8-12
Platform: Win
Item #: SNR-SET
Senior Computer Curriculum Set
#SNR-SET
Price: $195.00
Description
Senior Computer Curriculum Set

A collection of projects that challenge teens to master advanced skills. Activities are ideal for Grades 8-12.

Activities emphasize real-world applications of technology. Prepare students for higher learning and career readiness.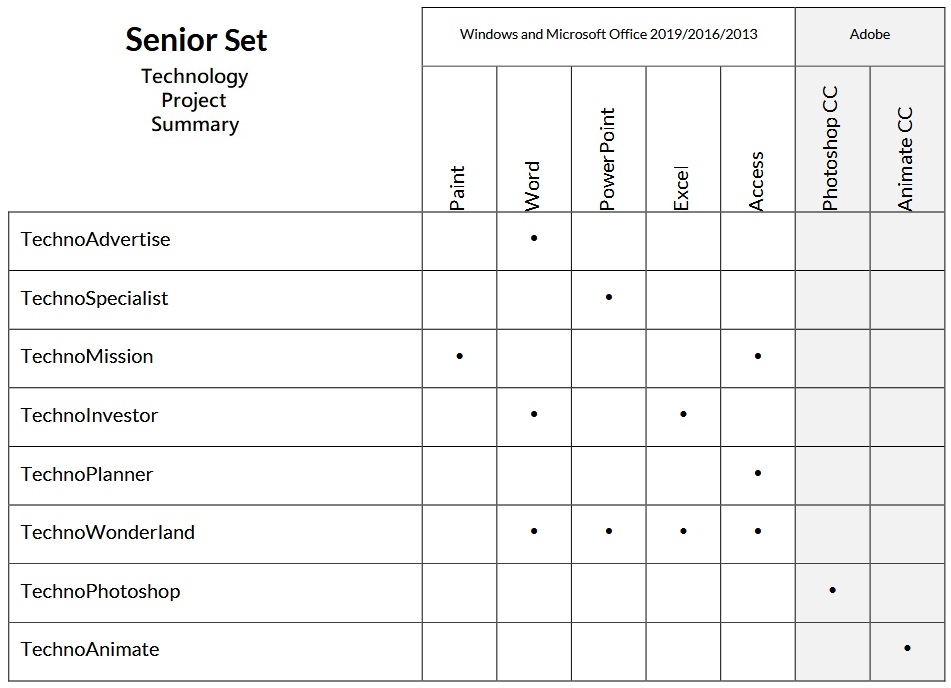 ---
Features & Benefits
A COLLECTION OF COMPUTER-BASED PROJECTS - The Senior Computer
Curriculum Set includes 8 technology projects perfect for tweens and
teens in grades 8-12 or ages 12 and up. The set includes
TechnoAdvertise, TechnoSpecialist, TechnoMission, TechnoInvestor,
TechnoPlanner, TechnoWonderland, TechnoPhotoshop, and TechnoAnimate.

MASTER TECHNOLOGY TOOLS - Each technology project includes a
comprehensive teacher guide for curriculum planning, student workbook to
promote independence, and customizable resources to reinforce learning.
Activities include illustrated, step-by-step instructions with clear,
easy to understand examples.

OPEN DOORS TO FUTURE POSSIBILITIES - Teach students the word processing,
spreadsheet, presentation, desktop publishing, graphic design, and
information management skills they need today and tomorrow. Develop
essential technology skills that can be applied to any school project or
in the workplace.

ADAPTABLE INSTRUCTIONAL MATERIALS - Incorporate real-world activities as
part of a curriculum unit, computer class, or school club. Computer
instructors, business teachers, media arts specialists, or librarians
can use the lessons to make learning relevant. Have students become
theme park managers, marketing executives, IT specialists, and more!

NO NEED TO COUNT STUDENTS OR DEVICES - Purchase price is a one-time fee,
not a subscription. Curriculum set ships on a USB drive. Reproduce
unlimited copies for teachers and students at your location. No
restrictions on the number of devices within the classroom, school, or
home school environment. Click More Details to learn more.
---
System Requirements
Version: MS Office 2019 | 2016 | 2013
Program: Access, Excel, PowerPoint, Publisher, Word, Animate CC, Photoshop CC
---
Reviews
---