TechnoKids Intermediate Computer Curriculum Set
Publisher: TechnoKids
Grade Level: 6-9
Platform: win
Item #: INT-SET
Intermediate Computer Curriculum Set
#INT-SET
Price: $275.00
Description
Intermediate Computer Curriculum Set
A collection of projects that develop proficiency in using ICT applications and support STEM education. Activities are ideal for Grades 6-9.

Project-based lessons blend technology into curriculum. Teach essential skills with meaningful activities.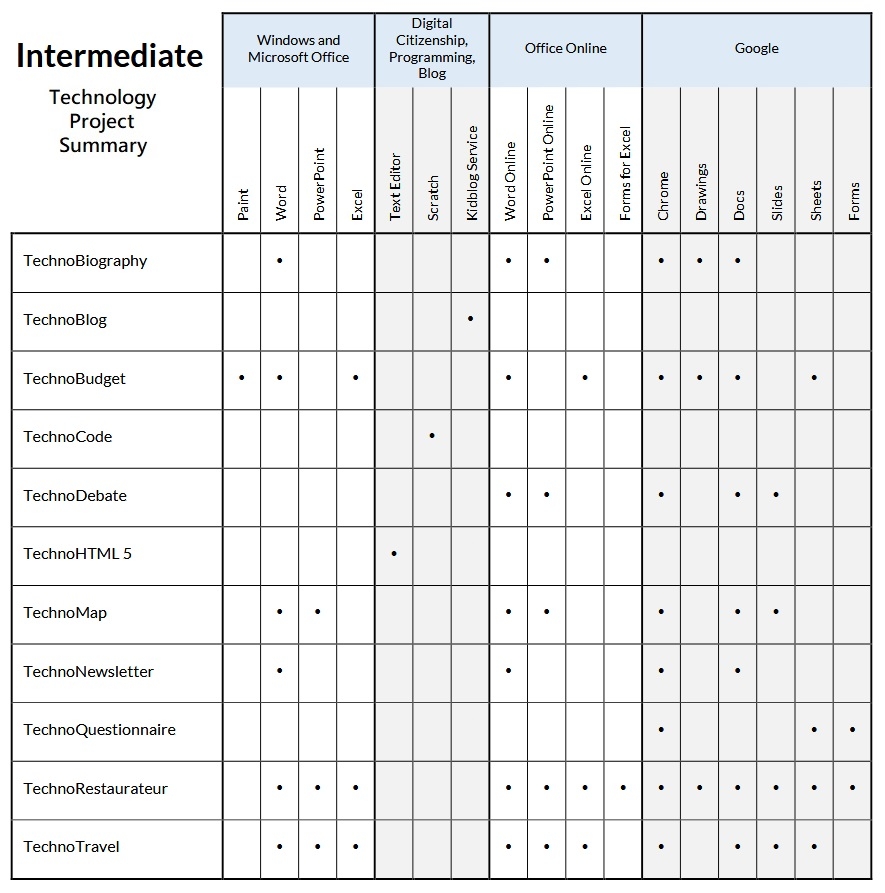 ---
Features & Benefits
A COLLECTION OF STUDENT-CENTERED LESSONS - The Intermediate Computer
Curriculum Set includes 11 technology projects perfect for tweens and
teens in grades 6-9 or ages 11-14. The set includes TechnoBiography,
TechnoBlog, TechnoBudget, TechnoCode, TechnoDebate, TechnoHTML5,
TechnoMap, TechnoNewsletter, TechnoQuestionnaire, TechnoRestaurateur,
and TechnoTravel.

TIME-SAVING RESOURCES - Each technology project includes a comprehensive
teacher guide for curriculum planning, student workbook to promote
independence, and customizable resources to reinforce learning. Minimize
classroom preparation using the provided reproducible worksheets, clear
example files, templates, and customizable assessment tools.

PREPARE STUDENTS FOR THE FUTURE - The set includes everything you need
to integrate technology into learning. Incorporate the activities as
part of a curriculum unit, computer class, or after-school program.
Engage students! Code a web page, publish a newsletter, launch a
business venture, and more!

PICK THE VERSION THAT IS RIGHT FOR YOU - The set includes instructional
materials for Google Docs, Office 2019/2016/2013, Scratch, and Office
Online.


SIMPLIFY TEACHING - Purchase price is a one-time fee, not a
subscription. Curriculum set ships on a USB drive. Reproduce unlimited
copies for teachers and students at your location. No restrictions on
the number of devices within the classroom, school, or home school
environment. Click More Details to learn more.
Technology Skill: Blogging, Desktop Publishing, Digital Citizenship, Graphics, Presentation, Programming, Spreadsheet, Word Processing
---
System Requirements
Version: Google, MS Office 2019 | 2016 | 2013 | Online
Program: Excel, Paint, PowerPoint, Word, Docs, Drawings, Forms, Sheets, Slides, Blog Service, Text Editor, Scratch
---
Reviews
---