Clicker 7
Publisher: Crick Software
Grade Level: PreK-7
Platform: Mac / Win
Item #: CRK001
Single computer
#CRK001
Price: $455.00

SRP: $495.00

5 computers OneSchool license
#CRK001L5
Price: $1,140.00

SRP: $1,200.00

10 computers OneSchool license
#CRK001L10
Price: $1,425.00

SRP: $1,500.00

40 computers OneSchool license
#CRK001SL40
Price: $2,850.00

SRP: $3,000.00

Unlimited OneSchool license
#CRK001SL
Price: $3,420.00

SRP: $3,600.00
Description
Clicker 7 Builds on the worldwide success of it's predecessors and makes it easier than ever for teachers to provide personalized literacy support across the curriculum - from planning, to writing, to proofing!
Used on over half a million computers worldwide

3 year development - taking all the best parts of Clicker 6 and improving

Three brand new components to Clicker 7:

Voice Notes

|

Clicker Board

|

Word Pool

Even faster resource creation and editing with brand new wizards

Supports a broad range of special needs, including switch access and eye gaze

Seamless interoperability with Clicker Apps

Free content for Clicker 7 at LearningGrids.com
---
Feature

Benefit

Voice Notes


Students can record their own Voice Notes before they write.


Student can capture their initial thoughts and ideas, BEFORE writing.


Clicker Board
Clicker users now have a built-in planning tool to help them prepare for writing.


By enabling a visual plan to be built before writing, quality and depth of writing is enhanced.


Word Prediction
Clicker 7 takes word prediction to the next level. Suggestions are incredibly context sensitive, as well as offering topic specific word prediction.


Increased depth and breadth of vocabulary use in written work.


Word Pool
With Word Pool, you can add any word to Clicker's knowledge base.


Ensures that all works are pronounced correctly by the speech engine, suggested by the predictor, and accepted by the spellchecker.


Clicker Wizards
Edit Mode adapts to the kind of activity you are working with, and allows easy editing after creation.


Even faster resource creation for teachers.


Accessibility
Two exciting new access options in Clicker 7; eye gaze support and SuperKeys, our unique access method for learners who need bigger target areas.


Even more choices for accessing Clicker, giving even more students the chance to use Clicker.


App Interoperability
Clicker 7 can open files created on any of the Clicker Apps, and vice versa.


Resources can be created on any of the available platforms (Windows, Mac, or iPad) and shared with all others.

---
Features & Benefits
From planning, to writing, to proofing -
Clicker includes all the tools your pupils need to succeed.
The definitive primary
word processor
What sets Clicker apart from other word processors is the extensive support it offers to emergent, developing and struggling readers and writers.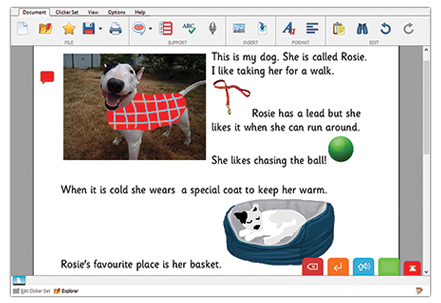 Child-friendly planning space
Clicker Board provides Clicker users with a built-in planning tool to help them prepare for writing. Pupils can manipulate and link words, pictures and sounds, and benefit from key Clicker support features as they put their board together.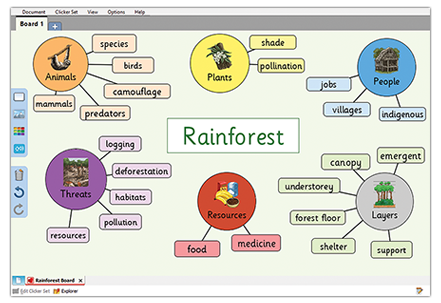 Audio note creator
Voice Notes enables pupils to record their own audio notes before they write. This gives them an opportunity to rehearse their sentences, and offers a powerful way for children to capture their initial thoughts and ideas.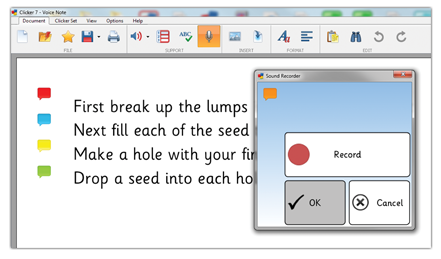 Realistic speech feedback
Clicker's brand new children's voices give pupils the opportunity to hear their work read back to them in a friendly, age-appropriate voice that they can identify with. This realistic speech feedback encourages them to actively review and self-correct their work.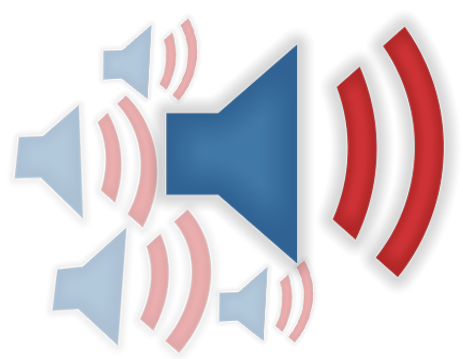 Intelligent word prediction
Clicker's built-in predictor, upgraded for version 7, improves the productivity of struggling spellers and encourages all pupils to use more adventurous vocabulary.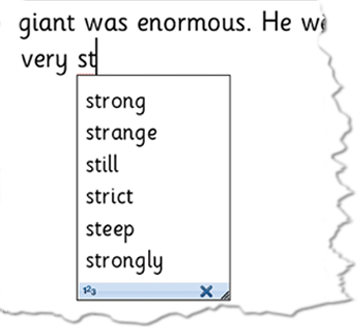 ---
System Requirements
OneSchool™ packs can only be used within one school. If you are purchasing for multiple schools across a district, please contact us directly for prices. All prices listed are for OneSchool licensing.
Windows:
Windows 7, Windows 8.1, Windows 10
Intel Core Duo 2GHz, 2 GB RAM
Mac:
Mac OS 10.9, 10.10,10.11
Intel Core 2 Duo, 2GB RAM
Requires Java 6
---
Reviews
---