TechnoKids Google Docs Package
Publisher: TechnoKids
Grade Level: 1-12
Item #: GOOGLEPKG
Google Docs Package
#GOOGLEPKG
Price: $349.00
Description
Google Docs Technology Projects

A collection of Google Docs technology projects. Write stories, create presentations, design a newsletter, research information, graph data, and more.
ICT and STEM Activities | Computer Curriculum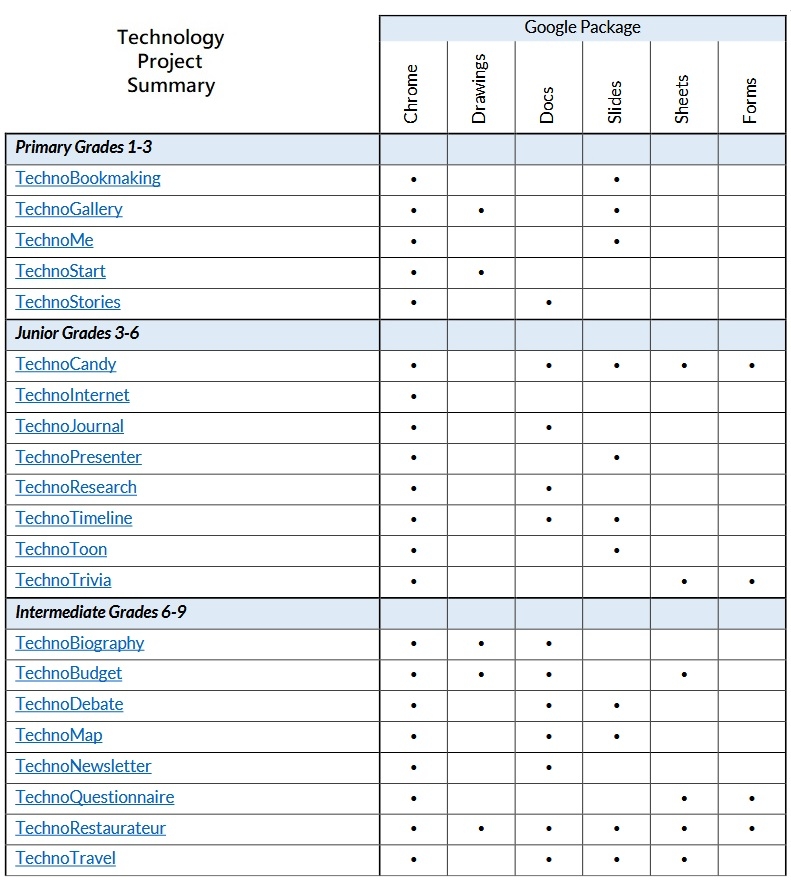 ---
Features & Benefits
GOOGLE TECHNOLOGY PROJECTS: The package includes 21 technology
projects: TechnoStart, TechnoMe, TechnoGallery, TechnoStories,
TechnoBookmaking, TechnoJournal, TechnoInternet, TechnoPresenter,
TechnoCandy, TechnoResearch, TechnoToon, TechnoTrivia, TechnoTimeline,
TechnoNewsletter, TechnoRestaurateur, TechnoTravel, TechnoBiography,
TechnoMap, TechnoDebate, TechnoBudget, TechnoQuestionnaire.
GOOGLE DOCS LESSONS: An innovative and comprehensive collection with
lesson plans for Grades 1-8. Using a project-based approach to learning,
activities blend word processing, presentation, spreadsheet, desktop
publishing, animation, and graphic design into curriculum.
USER-FRIENDLY AND TIME-SAVING: Every project includes a teacher guide
for curriculum planning, PDF student workbook to promote independent
learning, and all required materials including customizable assessment
tools, example files, templates, program flashcards, parent letter, and
certificate.
PRODUCTIVITY AND CREATIVITY TOOLS: Technology projects provide
open-ended activities that challenge learners with meaningful,
real-world tasks. Students can plan a restaurant franchise, build a
budget for a shopping spree, create art to hang in a digital gallery,
debate a critical issue, develop search strategies, animate a story,
design an interactive map, learn responsible digital citizenship, and
more!
ENGAGE STUDENTS WITH FUN LEARNING CHALLENGES: Hook tech-savvy young
learners with appealing technology activities. Free curriculum support
is available.
WORRY FREE RESOURCES: Purchase price is a one-time fee, not a
subscription. Curriculum set ships on a USB drive. Reproduce unlimited
copies for teachers and students at your location. No restrictions on
the number of devices within the classroom, school, or home school
environment. Click More Details to learn more.
Technology Skill: Animation, Data Management, Digital Citizenship, Graphics, Internet, Presentation, Spreadsheet, Word Processing
---
System Requirements
Version: Google
Program: Docs, Drawings, Forms, Sheets, Slides
---
Reviews
---