BoardShare Interactive Device
Publisher: Boardshare Inc
Grade Level: All
Platform: Mac/Win
Item #: BC8002
BoardShare System each
#BC8002
Price: $479.00

SRP: $499.00

Wand
#BW8021
Price: $49.00

SRP: $49.00

BoardShare System 25-99 each
#BC8002-25
Price: $439.00

SRP: $459.00

Ceiling mount for camera
#BM8030
Price: $79.00

SRP: $79.00

Additional IR Pens
#BP8010
Price: $39.00

SRP: $39.00
Description
BoardShare is a completely portable and interactive technology tool that allows users to create their own personalized interactive whiteboard. By inviting users to draw, annotate or even surf the Web, BoardShare can turn any space into a collaborative workstation.
BoardShare™ delivers portable smart board capabilities that enable interactivity and collaboration on any surface.
Transform any hard surface or LED/LCD TV into a virtual interactive whiteboard.
Create and toggle between hundreds of notes, documents, and presentations.
Use an array of tools including virtual pens, erasers, highlighters, and colors.
Move objects and/or re-size them rather than erasing and re-creating.
Save your work on your computer and digitally share it with others or work on it later.
Access files from your computer or the web and annotate directly on them.
Interact in real-time with remote teams using existing web conferencing tools.
Move from one location to another and create a virtual intelligent whiteboard almost anywhere!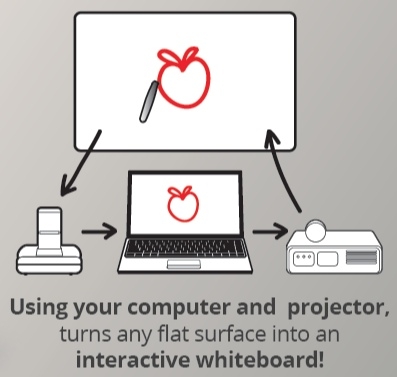 ---
Features & Benefits


Completely Portable – not fixed to a classroom or conference room wall; moves from room to room.
Small in size - fits easily into your pocket, purse, or briefcase.
Works on any flat writing surface: drywall, whiteboard, Flat screen TV.
Easy Setup - ready to use in less than a minute.
Access to 100's of software based virtual whiteboards.
User-Friendly Technology.


100's of environmentally friendly virtual marker pens, erasers, shapes, colors, and thicknesses.
Innovative pen with a pop-up menu button for ease of access to frequently used whiteboard functions.
Access computer files or internet content and annotate on them.
No external power - camera powered by USB.
Versatile - designed for any classroom, office or training environment.
Works seamlessly with education, corporate, and training software.
---
System Requirements


Windows
Mac OS 10.8 or higher
---
Reviews
---