MacDraft PRO Starter Bundle
This pack includes over 20% saving on the combined price
MacDraft ProStarder Bundle Single Computer
#MSP001SBP
Price: $359.00
Description
The MacDraft Pro application;
the Starter Pack is great for you to get started with MacDraft Pro and
includes 4 Libraries and 5 Templates to help you on your way.
What's Included?
MacDraft Professional App
▼4 Add-On Symbol Libraries




✓ Home plan Graphics Library

✓ Electronic Symbol Library 2

✓ Seasonal Graphics Library

✓ Safety Signs Library Pack



▼5 Premium Templates + Basic




✓ Floor Plan Drawing

✓ Green Eleg Business Card

✓ Color Block Calendar

✓ Mechanical Cutaway

✓ Garden Plan Drawing



▼Free Help & Support




✓ Live Chat

✓ Online & Phone Support

✓ Community Forum



Single MacDraft Pro License
This pack includes over 20% saving on the combined price
---
Features & Benefits
A fully scaled and layered environment
MacDraft offers it's users maximum control over their
drawing setup, you can select from English or Metric units and work at
your desired scale. Layers give you the ability to organize your
drawings so that you have the power to hide or gray whole sections of
your work, so for example you could have your floorplan on one layer
and your electrical schematics on another, then you can choose to hide
them or show them as required. Your layers can even have different
scales in the same drawing!
A dimension tool for every occasion
Whether you need horizontal, vertical, diagonal,
angular, perpendicular, radial or diameter dimensions, MacDraft's
dimension palette is always on hand to provide them. With linked
dimensioning to automatically update
dimensions as you modify components. Dimension formats
provide text position, tolerances, round off,
witness lines, arrow position, and much more. You can also create
linear dimensions in single,
chained or baseline modes.
Pinpoint accurate object control
The Resize palette displays the
size of an object, text, or
picture. When you select an
item, its unique measurement
parameters are displayed. Using
the keyboard, you can quickly
and precisely edit any of the
item's measurements to a new
absolute value, or a new value
relative to its current size; the
item is resized instantly. The
Resize palette can also be used
to move objects or vertices to
new absolute or relative positions.
Image Imports and Exports
MacDraft allows you to import images in the form of
PICT, TIFF, GIF, JPEG and BMP. You can also export drawings as PDF, BMP,
JPEG, PSD, PICT, PNG and TIFF, or any other Quicktime supported format
for that matter.
My clients use AutoCAD on a PC can I open their files?
MacDraft Pro offers excellent compatibility with
AutoCAD and other programs supporting the DWG/DXF file formats. During
opening of these files the user can choose the layout that will be
opened from a list of available layouts or open the entire Model. The
scale and units can also be chosen or MacDraft can do it automatically
if you are unsure.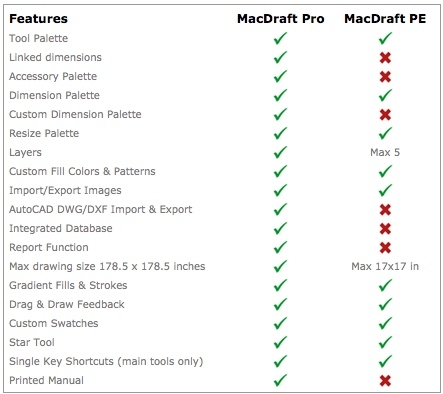 ---
System Requirements
OSX El Capitan
Designed
for Mac OSX and now compatible with the all-new OSX 10.11 El Capitan.
OSX El Capitan compatibility brings a whole host of speed and efficiency
to your software, making your MacDraft experience more enjoyable. OSX
El Capitan not only provides a more confident and powerful OSX, it also
gives a brand new elegant design, that feels familiar, enhancing your
applications and giving you a welcome boost.
---
Reviews
---