MUZZY Classroom DVD Packs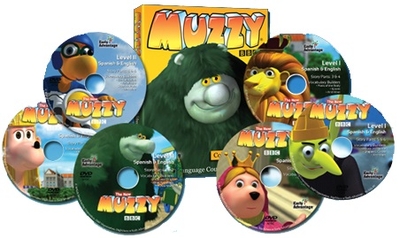 Description
MUZZY CLASSROOM DVD PACKS
The MUZZY DVD packs are perfect for any situation when Wi-Fi may not be available. The DVDs can be played on a laptop with a DVD drive or on a portable DVD player. You can even play them at home on your Blu-Ray.
Languages:
Spanish (Latin American)
English
French
Italian
Mandarin Chinese
German
Each language set includes 6 DVDs with American English support.
MUZZY Classroom Curriculum Binders are also available.
*only Spanish and English binders include American English support.
MUZZY Classroom DVD Packs
Publisher: Muzzy Club
Grade Level: K-8
Platform: DVD
Item #: NMA
DVD Pack - Spanish (LatAm)
#NMALS
Price: $199.00
DVD Pack - English
#NMAAE
Price: $199.00
DVD Pack - French
#NMAFR
Price: $199.00
DVD Pack - Italian
#NMAIT
Price: $199.00
DVD Pack - Chinese
#NMAMC
Price: $199.00
DVD Pack - German
#NMADE
Price: $199.00
---
Features and Benefits
---
Reviews
---