MUZZY Club Online - Library Edition
Free Shipping
Publisher: Muzzy Club
Grade Level: K-8
Platform: Online
Item #: MCLUB
Under 1,500 (minimum)
#MCLUB
Price: $150.00

SRP: $150.00

Under 10,000 (price per Patron)
#MCLUB
Price: $0.10

SRP: $0.10

10,001 - 99,999 (price per Patron)
#MCLUB
Price: $0.05

SRP: $0.05
Description



MUZZY is designed for Children of any age. Pre-readers, readers, grade school, secondary - even adults love learning a new language with MUZZY!
Available in Spanish, French, Italian, German, Chinese and great for English language learning too!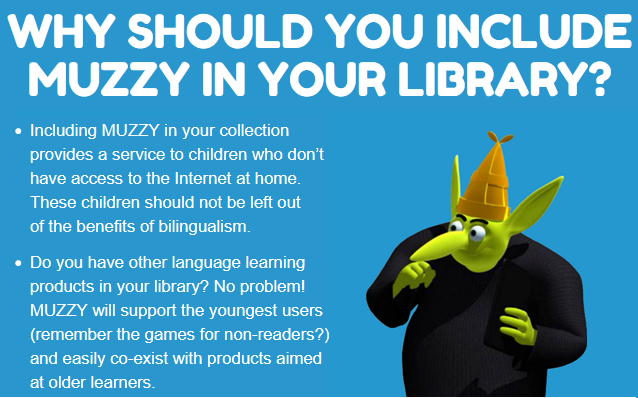 BENEFITS OF MUZZY

HIGHER ACADEMIC
ACHIEVEMENT

IMPROVED READING,
WRITING & MATH SKILLS

CREATIVE
ADVANTAGE
ENHANCED
MEMORY
BENEFITS THAT WILL LAST A LIFETIME!
---
MUZZY Library Edition DVD Packs are also available.
---
Features & Benefits
ONLINE SUBSCRIPTION
---
Videos
---
Reviews
---