KID PIX 5 for iPad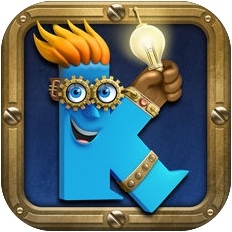 Description

Being first to include an iPad version, the new KID PIX® 5 S.T.E.A.M. Edition enters a world where art and science reunite and critical thinking meets creative making. Young artists can now transform their digital stories and adventures into interactive digital art, science and math projects that suit the needs of young innovators. New button actions enable students to design interactive quizzes or create a learning game. Using a variety of animated costumes and videos they record themselves, kids can star in their own documentaries or talk to an animated character who shares the screen.
KID PIX 5 for iPad
SIGN-UP to receive free KID PIX lesson plans!
Available on the iOS App Store
#KPiPad
Price: $0.00
---
Features and Benefits
New in this edition
Path gestures
Rotating and resizing stickers, animations, movies and text while moving them along a path is as simple as pinching and dragging, making it easy to create characters who hop, jump, fly, and spin around the screen.
Interactive tappable objects
No longer bound to a linear model, students can create interactive characters that react when tapped — to tell a story, sing a song, make a funny noise, or even take off and whiz around the screen.
Collaborative video narration
Two students using the iPad's built-in dual-view camera can create a video narration, in which they appear in animated costume frames that lets them not only tell their stories on screen but appear as characters in them as well.
Presentation creator
Slide Shows and stop-action flipbook movies can be created on the same screen as the paint canvas using the new Slide Show Tube.
Create stickers
New tools allow you to make an object out of anything you see on screen.
Button stickers
New button stickers let you add interactive navigation options in Slide Shows such as stop playing, next page, and go back a step.
Object sounds
Now you can attach a sound directly to any object that will play when it's tapped. Available sounds include recording your own voice, musical instruments and sound effects so you can make clocks that tick, dragons that talk, or create a wacky musical instrument that makes animal noises instead of notes.
Auto-perspective
Bring a sense of perspective to your path animations with this new option. Objects gradually grow larger as they move towards the bottom of the canvas, as if they're getting closer, and smaller as they travel towards the top, like they're moving away.
Enhanced Help mode
In this mode compact but informative help for everything you see on the screen is one tap away.
Voiceovers
Record a full-length narration for your Slide Show or give voices to all the characters in your animated tale.
This edition also includes:
• Unlimited Undo and Redo
• Multi-layered 3D backgrounds
• 3D animated characters and objects
• 163 video backgrounds
• Easy path animation for characters, stickers, and text
• Objects can be rotated, even on a path
• Triple sound tracks for projects
• Creation of instant photo stickers using the iPad's camera
• Enhanced video narration with animated costume frames
• Creation of new stickers by cutting out parts of a picture and making white areas transparent
• Layer Tools to move objects between layers
• Publishing directly to YouTube
• Sharing to Dropbox, Google Drive, or FTP server
• Flipbook and Storybook options for Slide Shows
• 50 state-of-the-art transition effects for Slide Shows
• Great new art!
---
System Requirements
KID PIX for the iPad is available through the App Store only.
---
Reviews
---