Mind Your Mind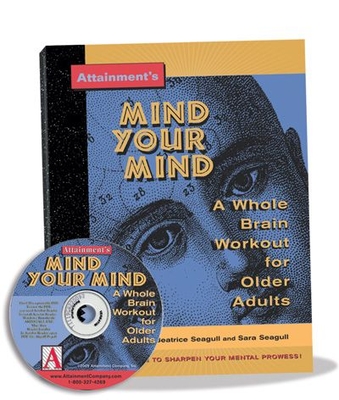 Description
A mental fitness guide with exercises for improving mental prowess, memory skills, flexible thinking, perception, and reasoning
Professor Seagull adapted and polished Mind Your Mind after leading innovative workshops with thousands of enthusiastic seniors. Awarded first place in the American Society on Aging Mind Alert Award, 2001. Mind Your Mind provides continued intellectual stimulation by presenting dozens of worksheets in nine skill categories like Memory and Reasoning.
Professional Version: Includes reproduction rights so you can photocopy or print pages using the PDF on CD. Covered spiralbound book, 220 pages, includes Win/Mac CD with printable PDF with photocopy rights, 2005.
The affordable Consumer Version: Covered spiralbound book, 220 pages without reproduction rights, 2005.
Mind Your Mind
Mind Your Mind
#MYM-01W
Price: $37.00

SRP: $39.00

Mind Your Mind Professional Version
#MYM-02W
Price: $67.00

SRP: $69.00
---
Features and Benefits
Provides support strategies for coping with memory loss and other cognitive disabilities
Includes information about brain research and Alzheimer's Disease
Offers dozens of worksheets in nine skill areas
Mind Your Mind Professional Version available with reproduction rights and a CD with PDFs for easy printouts
---
Reviews
---