Money Skills: Adapting Math Curriculum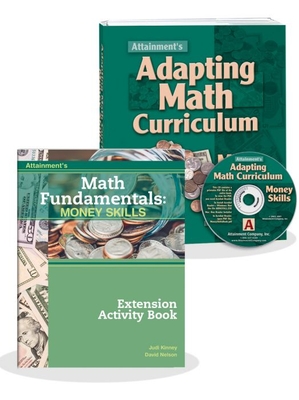 Description
A money skill curriculum with practice sets linked to NCTM standards
Product Features:
Aligned with Common Core, and NCTM and state standards
Customized lessons to meet each studentís needs
Incorporates 250 illustrated worksheets, assessments, and benchmarks throughout
Provides nine progressive skill sets with outlined teaching objectives
Money Skills: Adapting Math Curriculum
Math Curriculum
#AD-MC10
Price: $89.00

SRP: $99.00
---
Features and Benefits
Sets are broken down into teachable objectives, with sequenced benchmarks to help students progress at their own pace. In Skill Set One, for example, students identify and name coins and bills. Skill Set Seven focuses on counting exact amounts to pay for purchases up to $50. Assessments pinpoint student strengths and deficits so you use only the activities you need. Includes over 250 worksheets and a PDF on disc with a Classroom License for printouts. The new consumable Math Fundamentals: Money Skills Student Activity Book extends the lessons taught in Adapting Math with additional exercises for more student practice.
Curriculum Includes: Adapting Math Curriculum, a PDF with a Classroom License for printouts, and 10 consumable Math Fundamentals Workbooks.
---
Reviews
---