Navigating Special Education Law and Policy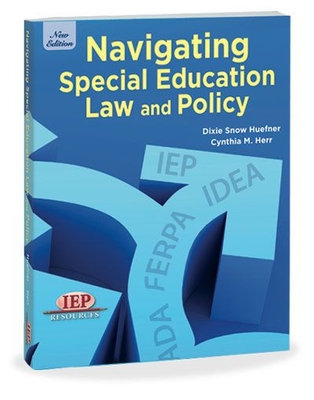 Description
A comprehensive guide to the rights and responsibilities of educators, supporting professionals, and parents for students with disabilities
The right of students with disabilities not to be discriminated against while receiving an appropriate education resulted from intense political lobbying and lawsuits in the 60s and 70s. But where are we at today? Navigating Special Education Law and Policy looks at our progress and addresses these rights and responsibilities of teachers, administrators, support staff and parents toward our children with disabilities.
Educators and parents have not been able to study the legal sources and limits of these rights. This hugely comprehensive guide remedies that. An understanding of rights, relationships between federal and state governments, and interactions of legislation, regulations, and court decisions are addressed in detail. And this vastly updated version retains the clarity and readability of the original, explaining complex material in simple terms. Itís written for undergraduate and graduate students in special education and is also ideal for staff development of special and general educators, administrators, and auxiliary personnel in public schools.
Part I reviews issues and laws governing special education; Part II explains requirements and major issues of IDEA; Part III explains to general educators how Section 504 provisions differ from IDEA.
This updated version includes:
Complete coverage of Ď06 IDEA regulations
Relevant No Child Left Behind regulations
Amendments to Americans with Disabilities Act
Section 504 of Rehabilitation Act
Family Educational Rights and Privacy Act
Important new court decisions
Updated statistical data on IDEA students
The book provides a conceptual foundation for understanding special education law and includes practical guidance for principals, teachers, and parents. It empowers individuals to know when and how to use their own judgment and thus how to stay out of legal trouble. Each chapter has a review and reminder section, suggested supplementary resources, ideas for group discussion, summaries of Supreme Court cases, a legal glossary, and an index of relevant websites.
Written by senior author Dixie Snow Huefner, University of Utah, and coauthor Cynthia Herr, University of Oregon. Softbound book, 2006 and 2011.
Navigating Special Education Law and Policy
Navigating Special Education Law and Policy
#NSE-02W
Price: $57.00

SRP: $59.00
---
Features and Benefits
Provides practical guidance and ideas for group discussion
Describes rights, and the relationships between federal and state governments
Details the interactions of legislation, regulations, and court decisions
Ideal for undergraduate and graduate students in special education and staff development for current professionals
Comprehensive Instructorís Guide for university educators is available in PDF, free of charge
---
Reviews
---