PRESCHOOL PHONOLOGY CARDS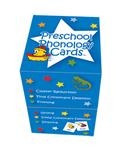 Description
Ages:3-6
Grades:PreK-1
240 jumbo-size cards help preschoolers eliminate phonological processes with endearing, simple illustrations and familiar vocabulary. Young children love to hold and talk about these bright, colorful pictures. The words are printed below each picture to reinforce speech-to-print connection.
Target six commonly-occurring phonological processes. Each phonological process includes 80 pictures (40 minimal pairs):
cluster reduction (e.g., cloud/loud)
final consonant deletion (e.g., couch/cow)
fronting (e.g., kite/tight)
gliding (e.g., ring/wing)
initial consonant deletion (e.g., chin/in)
stopping (shower/tower)
Use the durable, coated 3½" x 5" cards for:
phonological process training
minimal pairs tasks
auditory discrimination activities
auditory bombardment activities
drills
COMPLETE KIT INCLUDES:240, 3½" x 5" coated cards, in a sturdy storage box.
©2007
PRESCHOOL PHONOLOGY CARDS
Publisher: Pro-Ed Inc
Grade Level: All
Item #: 35016

#35016
Price: $80.00

SRP: $80.00
---
Reviews
---