Safety Skills Reader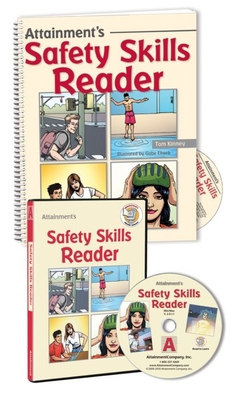 Description
A 26-story language arts curriculum for secondary students learning essential safety skills with graphic novel style illustrations
Safety Skills Reader book sold individually or in kits that include books, a PDF file and software:
Safety Skills Reader Introductory Kit includes one book, one PDF CD, and the multimedia software on a Win/Mac CD. The PDF CD includes a printable PDF file with a Classroom License that lets you print stories for each student.
Safety Skills Reader Classroom Kit includes eight books, the PDF CD, and the multimedia software.
---
Safety Skills Reader features 26 illustrated stories covering essential everyday safety skills. Each four- to six-page story is wonderfully illustrated in a graphic novel style using adult characters with text written at a 3rd grade reading levelómaking it ideal for transition students with development disabilities.
Teachers can read the story to the class and students follow along in their own book. Stories end with study questions and basic vocabulary definitions.
Story titles include:
Pedestrian Safety
Passenger Safety
Bicycle Safety
Getting Lost
Work Safety
Fire Safety
Bathroom Safety
Medicine Cabinet Safety
Kitchen/Dinning Room Safety
Mealtime
Putting Food Away/Doing Dishes
Doing Dishes by Hand
Dishwasher Safety
Clothes Washer/Dryer Safety
Garbage Disposal Safety ...plus more
Written by Tom Kinney, illustrated by Gabe Eltaeb. Covered spiralbound book, 162 pages, 2008.
The Safety Skills Reader Software reads the stories aloud to students with professional narration. Text is highlighted word by word, line by line, or by complete sentence. Graphics are plentiful, contemporary and age-appropriate. A test at the end of each story provides speech support and an optional hint feature that directs students to the page that addresses each question. A unified management system helps the teacher quickly review or print out student performance data. Teachers can determine reading lists and set options that best suit each student's learning style. Choose word-by-word or natural speech narration, select the text highlighting approach and assign tests.
Safety Skills Reader
Safety Skills Reader Introductory Kit
#SFR-15W
Price: $99.00

SRP: $129.00

afety Skills Reader Classroom Kit
#SFR-25W
Price: $279.00

SRP: $299.00

Safety Skills Reader Book
#SFR-00W
Price: $33.00

SRP: $34.00
---
Features and Benefits
Written at a 2nd-4th grade reading level
Covers topics for community, home, and recreational safety
Includes 26, four to six page stories, study questions, and basic vocabulary definitions
Software reads stories aloud with text highlighting
Software provides speech support and optional hint feature within the testing section
Software allows teachers to determine reading lists and set options for student learning style
---
Reviews
---