Self-Determination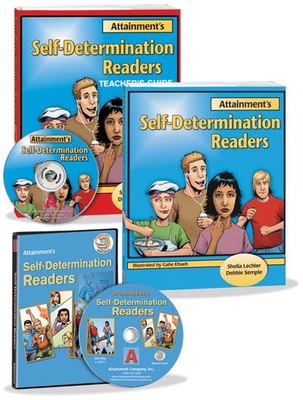 Description
A 16-story curriculum for transition students practicing life skills and reading comprehension
A contemporary language arts curriculum for transition age students with a Student Reader, corresponding Teacher's Guide with a downloadable PDF and the Self-Determination Readers Software that reads the stories aloud to students. The software includes many other features including text highlighting, vocabulary word definitions, testing and a management system.
The Self-Determination Readers Student Reader is available separately or in kits that include books, downloadable PDF and software:
Self-Determination Readers Introductory Kit includes one Student Reader, downloadable PDF, and downloadable software. The PDF includes a Classroom License that lets you print stories for each student.
Self-Determination Readers Classroom Kit includes eight Student Readers, one Teacher's Guide, the downloadable PDF, and the software.
---
The Self-Determination Readers Student Reader presents 16 engaging, full-color stories, written at a third grade reading level and illustrated in a graphic novel style. Each six- to eight-page story is ideal for one classroom session. Stories include: Acting Right Makes Cents and How Rude!
The Self-Determination Readers Teacherís Guide features multiple student activity pages for each story. The activity pages vary in difficulty and content so you can select just the right one for each student. Use the PDF for easy printouts of activity pages and full-color stories.
Written by Shelia Lechler and Debbie Semple, illustrated by Gabe Eltaeb. Student Reader, covered spiralbound book, full color, 132 pages, 2007. Included in the kits, the Teacher's Guide, covered spiralbound Teacher's Guide, black and white, 172 pages, plus PDF and a Classroom License for printouts.
Self-Determination
Self-Determination Introductory Kit
#SDR-15W
Price: $139.00

SRP: $159.00

Self-Determination Classroom Kit
#SDR-25W
Price: $309.00

SRP: $329.00

Self-Determination Student Book
#SDR-01W
Price: $33.00

SRP: $34.00
---
Features and Benefits
Stories written at a 3rd grade reading level
Each story is ideal for one classroom session
Includes illustrated stories with activity pages with varying difficulty
---
Reviews
---