Shopping Cards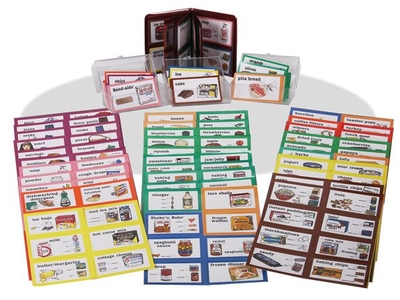 Description
288 color-coded and laminated cards for supporting students to prepare shopping lists
Use Shopping Cards to prepare illustrated shopping lists for non-readers before shopping outings or to practice budgeting in class. The 288 color-coded laminated cards come in seven food categories (produce, meats, dairy, convenience foods, condiments, beverages, desserts/snacks), plus clothes, household and personal care items.
Colorful, laminated cards measure 2 x 3½ inches and fit nicely into the take-along Pocket Book. Write on the back to specify size, brand and price information.
Includes 288 Shopping Cards, (easily punched out from the sheets), one Pocket Book, and three, clear plastic organizer boxes. Pocket Book holds 32 cards; size is 4¼ x 5 inches, closed.
Shopping Cards are also included in Picture Cue Cards.
Shopping Cards
Shopping Cards
#SC-01W
Price: $47.00

SRP: $49.00
---
Features and Benefits
Helps nonreaders prepare for shopping outings or practice budgeting in the classroom
Includes seven food categories and clothes, household items, and personal items
Cards are 2 x 3 ½ inches and fit into the 32-card Pocket Book included
---
Reviews
---