Simply Life Science Curriculum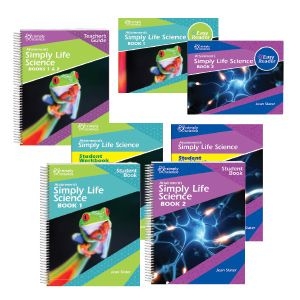 Description
A symbol-supported, standards-based life science curriculum
This three-unit standard-based curriculum engages students with a variety of symbol-supported activities. The two Student Books contain a total of 14 chapters, highlighting topics like animal life cycles, habitats, the food chain, survival, and the five senses. The Instructorís Guide provides a suggested 3- and 5-day lesson template to use as well as a scripted sample lesson for the chapter Understanding Life Cycles. Additional activities, projects, and experiments are included on a USB flash drive for each unit chapter.
The Curriculum includes: 2 Student Books, 2 consumable Student Workbooks, 2 Easy Reader Books, and Teacherís Guide with USB flash drive.
The Curriculum Plus includes The Curriculum plus a total of 20 consumable Student Workbooks (2 sets of 10), 8 Easy Readers (2 sets of 4), the entire page set of workbook pages as accessible GoWorksheets (iPad only), and samples of communication overlays. The GoWorksheets can be used with the free GoWorksheet app or the full GoWorksheet Plus app available on the App Store.
Simply Life Science Curriculum
Simply Life Science Curriculum
#SLS-10W
Price: $109.00

SRP: $129.00

Simply Life Science Curriculum Plus
#SLS-30W
Price: $229.00

SRP: $249.00
---
Features and Benefits
Instructorís Guide offers three- and five- day lesson templates
Two Student Books contain a total of 14 chapters
Includes a scripted sample lesson for Understanding Life Cycles
Provides additional activities, projects, and experiments on a USB flash drive
---
Reviews
---