SPEECH ACTIVITIES YOUNG LEARNERS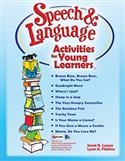 Description
Ages:3-5 Grades:PreK-K
Use popular children's books to improve speech and language skills. Suitable for groups and individuals, the activities transfer the magic of a child's favorite book to your therapy session.The kit comes with ready-to-use lesson plans, picture cards, worksheets, and activities that correspond with well-known children's books. (You supply the children's books.)
Each book-based unit has these activities:
Receptive and expressive vocabulary: worksheet activities target approximately twenty nouns, verbs, and adjectives from each book
Hands-on activities: fun, easy crafts and other activities are perfect for language enrichment
Concepts: concepts and their context in the featured book are listed for teaching purposes
Phonological awareness: develop early literacy skills with worksheet activities in rhyming, syllable identification, syllable blending, or listening for beginning sounds in words
Articulation and phonological pattern activities: use the picture cards and consonant cards to elicit articulation and phonological patterns; practice target words and patterns by themselves and in the context of the story
Questions: questions about the featured story are arranged developmentally from yes/no questions to who, what, when, where, how and why questions; ask the questions during or after reading the book; questions pertaining to the child's everyday experiences are included
Expansion Activities: multisensory, interactive learning ideas are given for each children's book for further reinforcement of speech and language goals
Copy the student activity pages or print them from the CD. The units are based on these books (books are not included in the kit):
Brown Bear, Brown Bear, What Do You See?
Goodnight Moon
Where's Spot?
Sheep in a Jeep
The Very Hungry Caterpillar
The Rainbow Fish
Trashy Town
Is Your Mama a Llama?
If You Give a Mouse a Cookie
Mama, Do You Love Me?
To see more of this product's contents:
COMPLETE KIT INCLUDES:130-page book plus a CD of reproducible pages, 234 cards (216 full-color picture cards and 18 letter cards) all in a vinyl folder. (©2007)
SPEECH ACTIVITIES YOUNG LEARNERS
Publisher: Pro-Ed Inc
Grade Level: All
Item #: 37626

#37626
Price: $45.00

SRP: $45.00
---
Reviews
---