TechnoKids Microsoft Extra Package
Publisher: TechnoKids
Grade Level: 1-12
Platform: Win
Item #: MICROSOFTEXTRAPKG
Microsoft Extra Package 2013/2016/2019/Online
#MICROSOFTEXTRA
Price: $495.00
Description
Microsoft Extra Technology Projects
Project-Based Activities for Microsoft Office. Lessons for Grades 1-12.
A collection of Microsoft Office technology projects. Launch a business venture, budget a trip, write a biography, publish a newsletter, and more!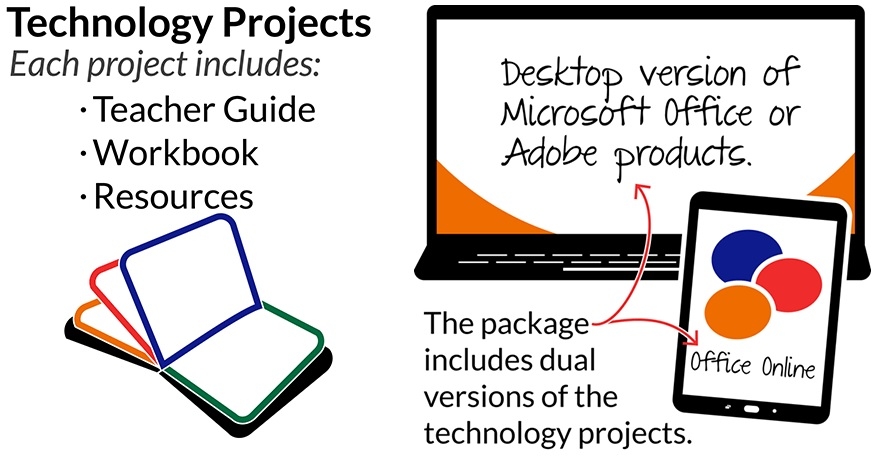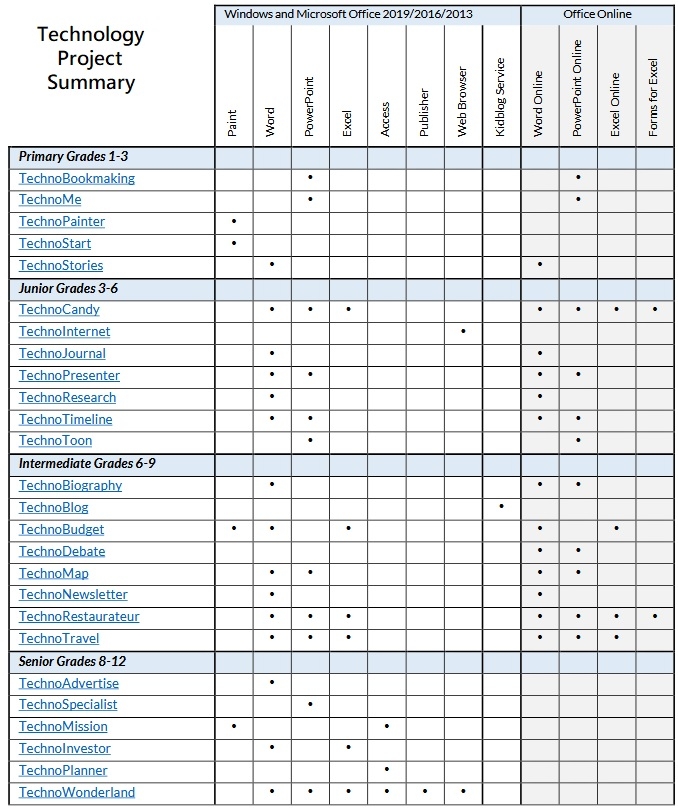 A COLLECTION OF STUDENT-CENTERED LESSONS: The package includes TechnoStart, TechnoStories, TechnoMe, TechnoPainter, TechnoBookmaking, TechnoJournal, TechnoInternet, TechnoPresenter, TechnoResearch, TechnoToon, TechnoTrivia, TechnoCandy, TechnoTimeline, TechnoNewsletter, TechnoRestaurateur, TechnoTravel, TechnoBiography, TechnoBudget, TechnoMap, TechnoDebate, TechnoBlog, TechnoAdvertise, TechnoSpecialist, TechnoMission, TechnoInvestor, TechnoPlanner, TechnoWonderland.
PROJECT-BASED LEARNING FOR MICROSOFT OFFICE: A dynamic collection of technology projects with lesson plans for Grades 1-12. Activities integrate word processing, presentation, spreadsheet, desktop publishing, animation, and graphic design into curriculum using a problem-based approach.
INNOVATIVE RESOURCES: Each project includes a teacher guide for curriculum planning, PDF student workbook to promote independent learning, and all required materials including customizable assessment tools, example files, program flashcards, parent letter, and certificate.
INTEGRATE TECHNOLOGY: Inspire and empower learners with real-world tasks. Technology projects provide a wide-spread range of age-appropriate learning challenges. Students can author whimsical mini books, design a newsletter, promote a weekend getaway, trade stocks, build a database, and more!
PREPARE STUDENTS FOR THE FUTURE: Proficiency in Microsoft Office is a job requirement listed on thousands of Monster.com job postings. Provide students with the skills they need for the future in a fun, engaging way.
EASY-TO-USE MATERIALS FOR BUSY TEACHERS: Purchase price is a one-time fee, not a subscription. Curriculum set ships on a USB drive. Reproduce unlimited copies for teachers and students at your location. No restrictions on the number of devices within the classroom, school, or home school environment. Click More Details to learn more.
Technology Skill: Animation, Blogging, Data Management, Database, Desktop Publishing, Digital Citizenship, Graphics, Internet, Photo Editing, Presentation, Spreadsheet, Word Processing
Version: Office 2019, Office 2016, Office 2013, Office Online
Program: Access, Excel, Paint, PowerPoint, Publisher, Word, Forms, Blog Service
---
Features & Benefits
---
System Requirements
Version: MS Office 2019 | 2016 | 2013 | Online
Program: Access, Excel, Paint, PowerPoint, Publisher, Word, Blog Service
---
Reviews
---