The Print Shop 4 for Mac Academic Edition Upgrade
Yes! Print Shop 4 has been updated to work on Catalina!
---
School Shipping Address Required
The Print Shop 4 for Mac Academic License can only be sold to schools and a school ship to address and e-mail must accompany every order.
Please call us at 800-877-9378 for a quote.

---
Single computer upgrade
#02106U
Price: $49.95
2-Computer Mac Upgrade
#PSU410
Price: $59.95
3-5 Computers Each Mac Upgrade
#PSU430
Price: $25.00
6-Computers Mac Upgrade
#PSU411
Price: $129.95
7-24 Computers Each Mac Upgrade
#PSU412
Price: $20.50
25-Computers Mac Upgrade
#PSU413
Price: $499.00
26-49 Computers Each Mac Upgrade
#PSU414
Price: $19.00
50-Computers Mac Upgrade
#PSU415
Price: $900.00
51-100 Computers Each Mac Upgrade
#PSU416
Price: $17.00
101-500 Computers Each Mac Upgrade
#PSU417
Price: $15.00
Description
What's new in the Print Shop 4?
Plenty!
This new version of The Print Shop 4 makes it easier than ever for you to create stunning projects. With new features from pop-up card templates to professionally designed clip art and from new drawing and spray can tools to 3D headlines, The Print Shop 4 will amaze you with what it can help you design.

New Pop-Up Greetings
As much fun to make as they are to receive, popup cards will surprise and delight whoever opens them, and add a touch of fun to any event. The only machinery needed is a pair of scissors. Print popup greetings on any inkjet or color laser printer using plain paper or card stock from a local copy shop.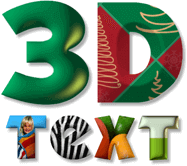 New 3D Headlines
When 2D text just falls flat it's time to round out your projects with our shiny new super easy to use 3D Text tools in The Print Shop 4. Choose materials from platinum to plastic, add rich metallic colors, and turn on dramatic studio lighting. Or wrap photos, fabric or the pattern of your choice. All to create deliciously rich 3D headline letters so realistic you'll think you can just peel them right off the page.

Bar Code Creator
Get those sales ringing by designing your own creative bar codes.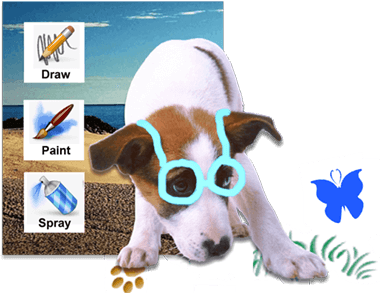 New Easy Art Tools
It might seem strange but The Print Shop for Mac has never been able to draw a straight line before. Or a curly, wavy or spiky one for that matter. But now in The Print Shop 4 you can. So go ahead and paint eyeglasses on the dog, and let your creativity soar. You can draw and paint with with dozens of brushes, shapes and spray paint with our new Art Tools palette. Enjoy!
Photos, graphics, & fonts to spice up your projects!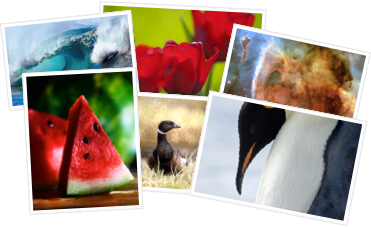 Photos Collection
The Print Shop 4 comes with 17,000+ gorgeous professional-quality photographs. Our built-in search engine makes finding what you want a breeze. Look for just the right photo by topic, keyword, theme, or color.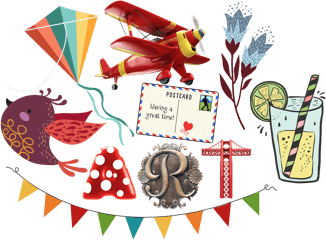 Clipart Collection
About 15,000 clipart images (including 8,500+ new commercial royalty-free* graphics) to spice up your holiday or business cards, design an eye-catching flyer or newsletter, or prepare effective student handouts.
*A license to sell - We've added commercial royalty-free images so now you can design a mug or a T-shirt and sell it too!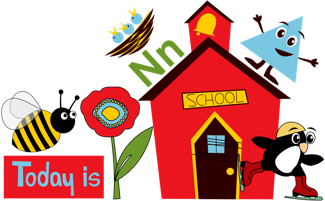 Educational Art Resources
6,000+ kid-friendly graphics to use in the classroom — from bulletin boards to flash cards, whether for learning the alphabet or about plant cell structure.
Layout like a pro with powerful easy-to-use tools!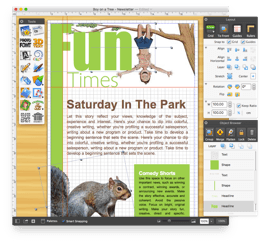 Desktop Publishing for the rest of us!
Getting a professional-looking result has never been easier. The Print Shop 4 combines a set of powerful yet easy-to-use layout tools with our award-winning step-by-step New Project Setup Assistant. The result is an application as powerful as graphics programs many times more expensive but with the kind of elegant simplicity you have come to expect from the award-winning design labs of Software MacKiev.
Enhance your photos in seconds!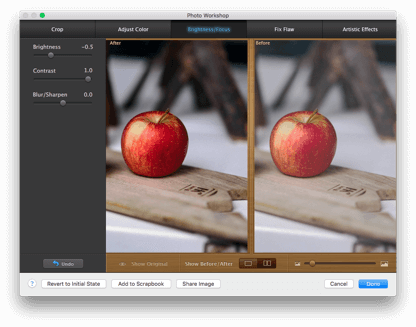 Photo Workshop
Fix, edit and enhance your photos in seconds using the built-in Photo Workshop. Adjust color, brightness, contrast, and sharpness. Fix flaws and get rid of red-eye and scratches. Apply custom effects such as pixelate, noise, emboss, antique, and more.Crop in shapes such as circles, hearts and stars (choose from 24 shapes) or use one of the 4 Crop Tools, plus the inside out crop that lets you cut holes in graphics.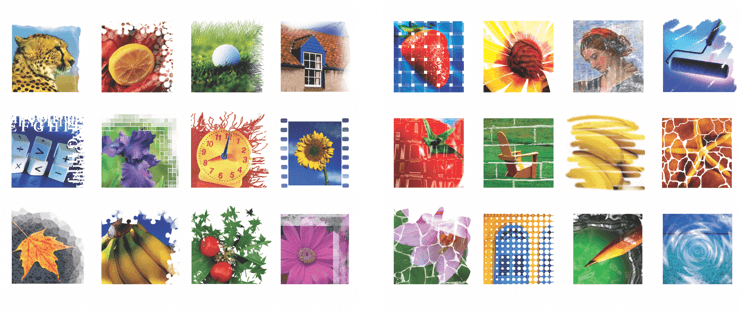 Special Edges & Transparent Effects
Twenty-eight creative edge effects and twenty-four artistic overlay effects to turn your projects into masterpieces! (Here are just a few.)
---
Features & Benefits
What the Academic Edition does:
Provides real-world experience in desktop publishing.
Builds skills in organizing, writing, and editing.
Develops skills in illustrating and communicating ideas.
Promotes proficiency in photo and image editing.
Reinforces spelling, writing, and proofreading skills.
Increases understanding and appreciation of a range of artistic styles.
---
The Print Shop 4 for Mac Includes:
Thousands of professionally-designed templates
24,700+ Images including gorgeous photos and vector graphics
340+ Custom fonts
2,000 Quotes & Verses to use in greeting cards
Export Formats: PDF, JPG, TIFF, PICT, PNG, BMP, HTML.
Import Formats: PDF, JPG, TIFF, PICT, PNG, BMP, WMF, GIF, PSD, TGA, MAC, SGI.
Paper Size Support: All U.S. sizes and International sizes (A4, A3, JB5).
Label Stock Support: US Letter and A4 (Avery, CD Stomper, Memorex and NEATO brands).
Language Support: Most major European, Cyrillic and Asian languages can be used to create Headlines and text blocks. Hebrew and Arabic are not fully supported.
Compatibility: Fully compatible with Mac OS X editions of The Print Shop (The Print Shop for Mac and The Print Shop for Mac 2). Mostly compatible with The Print Shop Deluxe 1.1.3 for Mac and The Print Shop for Windows versions 6 through 23.
---
System Requirements
Operating System: macOS 10.6.8 or later, including 10.14 "Mojave"
Processor: Any Intel-based Mac
Memory: 1 GB RAM (2 GB recommended)
Display: 1024 x 768, millions of colors
Free Hard Disk Space: 5.4 GB
DVD or USB Drive: For installation only if ordering a copy on DVD or USB.
---
Reviews
---