The Word Book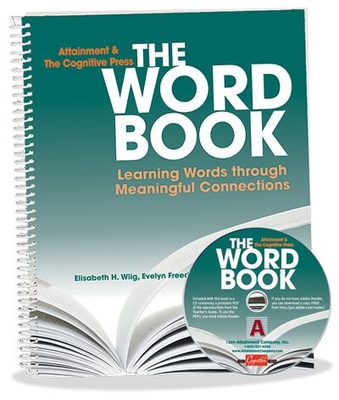 Description
A guide for planning and implementing lessons for 12,500 high frequency words
The Word Book helps you plan and implement lessons on vocabulary content that support special education students in general education classes. It categorizes 12,500 high frequency words in easy-to-read charts. These charts are organized by subject and typically list related nouns, adjectives and verbs in adjacent columns.
This format helps students understand how different words are commonly used together. For example, a shoulder may be broad or narrow, and it can lift, shrug, raise or turn.
The Word Book includes ten types of graphic organizers and a two-page rubric for vocabulary development. Aligned to NCTE and IRA standards.
By Elizabeth Wiig, PhD; Evelyn Freedman, MEd; Linda Schreiber, MS, CCC-SLP. Spiralbound, 348 pages, 2011. Includes a PDF on Win/Mac CD with a Classroom License for printouts.
The Word Book
The Word Book
#TWB-02W
Price: $47.00

SRP: $49.00
---
Features and Benefits
Provides easy-to-read charts organized by topic to connect nouns, adjectives, and verbs
Includes graphic organizers with two-page rubrics for developing vocabulary
Aligns with National Council of Teachers of English and International Reading Association standards
---
Reviews
---