TrackerPro 2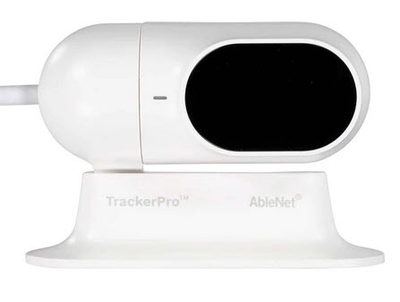 Description
A small "camera" that mounts to the computer's monitor and converts movement of a reflective target worn by the user to simulated computer mouse movement.
What is TrackerPro?
TrackerPro is a computer input devi
The NEW TrackerPro 2 head mouse provides reliable hands-free mouse control for individuals who are unable to use a traditional computer mouse. The smooth and pixel precise cursor control of TrackerPro 2 opens a world of possibilities for the user. An individual can use communication software, browse the internet, read a digital book, type an email, or just about anything else that can be done on a computer, tablet, or phone.

Improvements to the NEW TrackerPro 2 include:
Updated electronics and tracking camera
Compact and modern design
Two integrated switch jacks for left and right click
Improved mounting hardware
TrackerPro 2 is plug-and-play and uses the standard mouse drivers already installed on your device. To get started, connect TrackerPro 2 to a computer, tablet, or phone with a USB Type A port. A small reflective dot is placed on the forehead, nose, or glasses of the user and small head movements control the mouse cursor movement. For left and right clicks, attach two switches (not included) or use a dwell selection software for automatic clicking (not included).
ce that takes the place of a mouse
for people with little or no hand movement. Simply plug it in and it
works just like a mouse (no additional software required). Anything that
can be done with a regular hand mouse can be done by using TrackerPro
(in conjunction with one of many clicking solutions).
For a limited time: TrackerPro includes a beta version of the Swype onscreen keyboard.
Through April 30, 2011, the revolutionary Swype onscreen keyboard will
be included with every purchase of TrackerPro. Using the two together
dramatically increases typing speed and efficiency. You have to see it
to believe it!
How does it work?
It is a high-resolution intelligent camera in a solid aluminum
enclosure, making it smooth, reliable, stand-alone, robust, accurate and
easy to mount. TrackerPro tracks a small dot that you can place on your
forehead, glasses or the rim of a hat. Tracker is not a toy meant for
the gaming market and then sold to people with disabilities as a
secondary thought; it is dedicated assistive technology designed
exclusively for people with limited use of their hands.
"Thanks for the great products that empowers others to be independent in their lives!"
—Ann Hoffmann, M.S. CCC-SLP
The ALS Association, MN Chapter Program Coordinator Hrbek-Sing Communication and Assistive Device Program Courage Center
TrackerPro 2
Publisher: AbleNet Inc
Grade Level: All
Item #: 10000034
TrackerPro 2
#10000034
Price: $895.00

SRP: $995.00
---
System Requirements
Dwell selection software options:
Windows 7, 8, or 10: Dwell Clicker 2
macOS Sierra 10.12 or High Sierra 10.13: Dwell selection functionality is part of the accessibility settings and can be activated by going to System Preferences > Accessibility > Dwell Control
macOS Mavericks 10.9 to El Capitan 10.11: DwellClick App can be purchased in the macOS App Store
Google Chrome OS: Dwell selection can be activated by going to Accessibility > Automatic clicks
TrackerPro 2 includes:
TrackerPro 2 hardware with USB Type A connector
2-m USB Type A extension cable
Table top mounting bracket
Dual lock and monitor mounting bracket
Two 3.5-mm / 1/8-in TS switch jacks
Reflective dots
Quick start guide
---
Reviews
---