Ultimate Math Invaders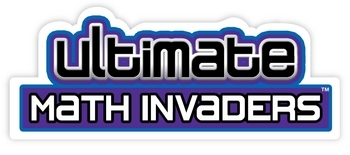 Description
Ultimate Math Invaders is awesome space-attack math that drills number facts and tables from Elementary right through to Junior High! Fun 3D graphics and gameplay combined with fundamental basic math gets results.
Kids eagerly and voluntarily engage in the drill-and-practice of a wide range of mental arithmetic skills. Rapid recall of number facts develops and improves as they work to destroy descending waves of number facts and number fact extensions.
Ultimate Math Invaders
Free Shipping
Publisher: EdAlive
Grade Level: K-8
Platform: Download
Item #: EDA003
School
#EDA003S
Price: $79.95
Lab 5
#EDA003L5
Price: $125.95
Site License 25
#EDA003SL25
Price: $325.95
Network
#EDA003N
Price: $595.95
---
Features and Benefits
All content curriculum-correlated.
Fun and varied practice of tables, number facts and calculations, designed by teachers* Math learning sequence builds learners' knowledge from early number skills right through to advanced high school concepts
Extensive player level options suits all players, from those with special needs to the arcade addict
Individual Record Keeping and Performance Tracking wrong answers are recorded so teachers and parents can focus on areas for improvement
Exciting game-play quirky Invader behavior, greater player control over the ship, increasing speed and different environment with each new wave level
Pushes player to personal skill and math limit
Cool 3D-style graphics
Multiple Invader types plus increasing incentive and skill challenge
Custom content for remediation
Caters for groups of users (School & Network Versions)
---
Videos
---
System Requirements
Windows
Win XP SP3, Vista, 7, 8
Macintosh
OS X 10 or higher, includes OS 10.7, 10.8 & 10.9
---
Reviews
---