United States Geography Reader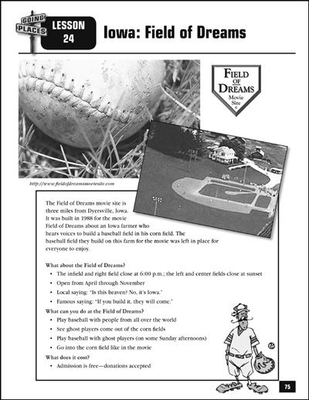 Description
A travel destination-themed reading comprehension program for secondary students
It divides the continental United States into eight geographic areas and gives details on twelve unique tourist destinations within each region. Destinations were chosen to appeal to middle and high school students and will engage all teen readers. Teen user-friendly travel destinations include: Cleveland's Rock and Roll Hall of Fame and Museum, San Antonio's Riverwalk and Nashville's Grand Ole Opry. Includes 96 lessons in total.
Each lesson consists of a one-page story written in a modified travel brochure style at a Grade 3-5 reading level, and two pages of comprehension quizzes about the story. Students locate their destination on a map and connect its location to their own state and town of origin. And they're encouraged to write their own experiences and opinions about suggested sites. Each lesson is illustrated and includes actual photographs of the locations. Internet addresses are added for further learning opportunities.
By Ellen McPeek Glisan. Includes a CD with a PDF with a Classroom License for reproduction. Covered spiralbound book, 324 pages, 2005.
United States Geography Reader
United States Geography Reader
#GP-02W
Price: $37.00

SRP: $39.00
---
Features and Benefits
Details 12 unique tourist destinations within each of eight regions
Provides 96 lessons with one-page travel brochure style story
Ideal for adolescent students at a 3rd-5th grade reading level
Includes illustrations and real photographs
Encourages students to locate the destination on the map and write about their own experiences and opinions
---
Reviews
---