VIDBOX Film Scan & Save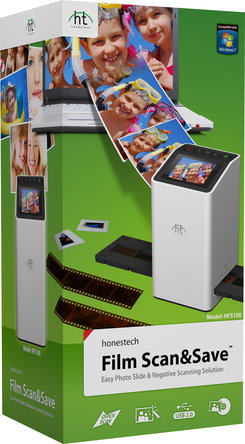 Description
Digitize your old color or black & white photo negatives and slides
with honestech Film Scan & Save before they get lost or damaged.
Simply turn on the stand-alone scanner, insert the holder/tray with
negatives/slides, select the film type from the LCD menu, then press the
""scan"" button to scan and save.
VIDBOX Film Scan & Save
Publisher: VIDBOX
Grade Level: 9-Adult
Platform: win
Item #: 56824
Single Mac Win CD
#56824
Price: $125.95
---
Features and Benefits
Quick Scan
Scanning process is done with a press of a button.gh Quality
Supports up to 1,800 dpi (2528x1680) resolution.
Auto Correction Tool
Improves your photos with minimal editing effort.
Easy Transfer
Transfers scanned images to your PC via USB(no additional software required).
LCD Screen
Preview and scan using built-in LCD screen and touch buttons.
---
System Requirements
Main function : Converts 35mm color/black&white photo negatives and slides into digital photos
Image sensor : 5 mega pixel CMOS sensor
Screen : 2.4" Color TFT LCD
Negative formats supported : 135 (35mm)
Format : JPG
Resolution
- 5 mega pixel : 2528x1680
- 10 mega Pixel : 3648x2432
Approximage number of photos stored per 1GB memory
- 5 mega pixel : 905
- 10 mega pixel : 405
Scanning type : Single Pass
Lighting : White 3 LED backlight
Storage options
- Internal memory : 32MB

- External memory Support

- SD card (maximum 4GB)

- SDHC card (maximum 32GB)

- MMC card (maximum 16GB)

Interface : USB 2.0 TV OUT
Power : Power AC adaptor or USB
---
Reviews
---