VIDBOX for Mac - Mac CD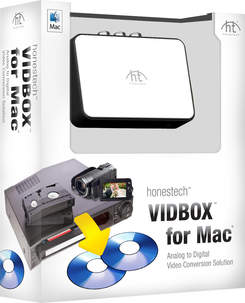 Description
Your old videos will have color bleed, white specks, and other
distortions. VIDBOX for Mac can bring back precious memories from old
VHS, Betamax and camcorder tapes. Anyone can convert old tapes to
digital formats and preserve priceless home videos forever using this
all-in-one Mac solution with Step-by-Step pictorial instructions.
VIDBOX for Mac - Mac CD
Publisher: VIDBOX
Grade Level: 9-Adult
Platform: Mac
Item #: 56822
Single Mac
#56822
Price: $67.95
---
Features and Benefits
Easy
Conversion
Process
Convert your video to digital format with one
click. Step-by-step pictorial instructions guide
you through the process. All-in-one solution
provides everything you need to easily convert
your videos to digital formats.
Capture - Record video from compatible analog video players.
Edit - Seamless integration with iMovie allows you to easily edit the recorded video.
Sync - Add recordings to your iTunes library and sync with your iPad, iPhone or Apple TV.
Watch - View recorded video on your Mac using QuickTime or iTunes.
BurnDVD - Archive and burn your memories to DVD using iDVD on your Mac (if available).
USB 2.0 Video Capture Device Included
Requires USB 2.0 interface
Supports plug and play
Does not require external power
Supports Mac OS X 10.6 Snow Leopard
Multi cable input: S-Video, RCA (Composite)
USB cable included
---
System Requirements
Mac OS X 10.6 Snow Leopard
---
Reviews
---