VIDBOX Stopmotion Studio 4.0 ESD Download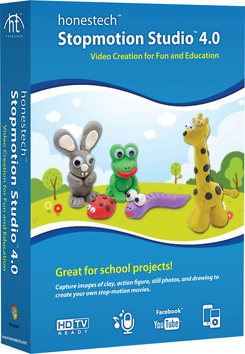 Description
Creating stop-motion animation not only encourages the development
of story-telling, it also provides an opportunity for kids to use the PC
as a movie productions tool. Capture images using webcam, camcorder and
DSLR cameras. Great features help control the video speed, change the
background and create flowing movements with ease.
VIDBOX Stopmotion Studio 4.0 ESD Download
Publisher: VIDBOX
Grade Level: 6-Adult
Platform: Win
Item #: 110330
Win ESD
#110330
Price: $65.99

SRP: $69.99
---
Features and Benefits
HD support
Resolution up to 1920 x 1080.
Requires HD webcam, camcorder* or DSLR camera**
* Camcorder with Firewire (IEEE 1394) connection.
** Most Canon and Nikon DSLR cameras with Live View support.

Storyboard
View the frames in sequence for easy editing.
Add onscreen text, subtitles, sound effects, voice, and background music.
Import your photos from digital camera or PC.

User Interface
Capture images using webcam, camcorder, and more.
Onionskin and rotoscope features help to easily shape or position a figure.
Adjustable frame rate allows you to control the speed of your video.
Preview your work before creating output.
Capture Tools
Auto capture makes capturing images easier and faster than ever.
Control brightness and other camera settings.
Flip your image vertically or horizontally (mirror image).
Grid and key drawing features help you adjust your subject more accurately.
---
System Requirements
**Proof of Academic Affiliation required when ordering**
Windows 8 / Windows 7 / Vista / XP (SP 2/3)
No Returns!
---
Reviews
---